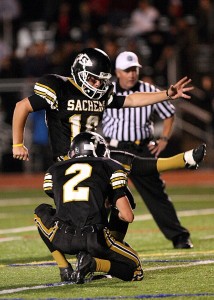 For the better part of 51 seasons, Sachem has been known for its hard-hitting defensive players and dominant running backs. Kicking has never really been part the program's historic lore.
That was until Bryan Morris came around and quickly has risen to the top of Long Island's list of impressive legs. Already a three-year varsity player as a junior, Morris reached the 100-PAT -point after touchdown – plateau Friday night during Sachem's 51-14 victory over Patchogue-Medford.
While the century mark is nice and it inches him a step closer to being Long Island's all-time leading extra-point kicker, it was the field goal Morris kicked against the Raiders that he'll remember forever.
In three years of football, Morris had never kicked a field goal. He practices them. He studies pro and college kickers. He dreams of kicking a game-winning field goal in a playoff game. For now though, he'll settle on his 31-yard kick that sailed through the uprights in the south end zone at Fred Fusaro Alumni Stadium and gave Sachem a 37-7 lead in the third quarter.
"It felt great," said Morris, who proudly ran off with the ball after his kick. "To be my third year and be my first one it's insane. I'm glad the coaches gave me the opportunity. Thank you is all I can say."
READ MORE: Check out the complete game recap from Friday's victory 
Morris now has 102 career PATs, four from breaking Jonathan Korn's Long Island mark of 105 set at William Floyd.
He is also ninth all-time in Long Island history with 105 total career kicking points. The record is 139 held by East Islip's Sean Mollar.
To think that Morris has earned all of his points – except for three from Friday's field goal – strictly on PATs, says a great deal about how powerful Sachem's offense has been the last two years. Sachem has had its best offensive seasons in program history in 2010 and 2011, respectively. The Flaming Arrows scored 422 points in 2010 and 404 last season, putting up well over 4,000 yards each year.
"It's because I've had insane offenses," Morris said. "Dalton [Crossan], Jesse [Scanna], Mike [Andreassi], Angelo [Armine], everybody. Thanks to them, thanks to all of those o-lines, they've gotten me to where I am right now."
Morris isn't just kicking field goals and extra points effectively, his touchbacks have been a positive special teams trait that are hard to come by in high school kickers. This season, Morris has consistently kicked the ball into the end zone or within the five yard line. He had four touchbacks Friday night and one tackle.
"I've said all along that he's a weapon," Sachem head coach Dave Falco said. "I'm excited for him. I'm excited that we have him for another year. He's a solid kid and has worked extremely hard to get to where he is."
-Words by Chris R. Vaccaro / Photo by Ray Nelson