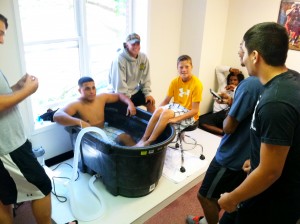 Aside from the end-of-year dinner for Suffolk County football's finest or a recruiting combine, it's rare to find the county's football elite socializing. Walk into Excel Rehabilitation and Sports Therapy in Ronkonkoma on Sunday morning and you'd be quite surprised.
At a glance you'd be taken back if you didn't know what was happening. Players from Sachem East and Sachem North talking with the best from William Floyd, the gridiron greats from St. Anthony's comparing notes with a player from St. John the Baptist, and others, including former Chicago Bear Trevor Coston, in the mix.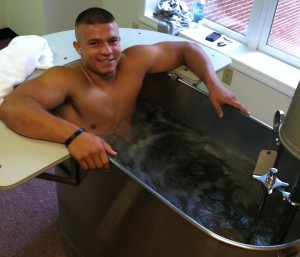 While only a day or two earlier most of these high school athletes were fierce competitors and rivals on the field, on Sunday they all have one thing in common, to rehab their bodies and get ready for the next week of practices and games.
And by the looks on their faces, they're battling something else on Sunday too. It's not the difficult task of talking to a rival; it's the frigid temperature of the feared, yet revered, ice bath.
At Excel, a group of high-level athletes have been stepping into the ice baths soar, their bodies riddled from four quarters of hard hitting, and exit feeling rejuvenated after 10-20 minutes in 45-55 degree water.
According to Ray Nelson, the Executive Director of Excel, intense exercise, or a game of football, causes microtrauma, or tiny tears in muscle fibers. Enter ice baths.
Benefits of the ice bath
Constrict blood vessels and flush waste products, like lactic acid, out of the affected tissues
Decrease metabolic activity and slow down physiological processes
Reduce swelling and tissue breakdown
Then, with rewarming, the increased blood flow speeds circulation, and in turn, improves the healing process.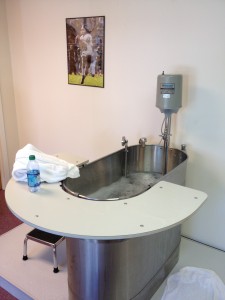 Cryotherapy has been around for a long time. Excel hasn't invented anything new. Instead, they're creating better opportunities for high-level athletes who may not have had the experience to rehab this way.
"In essence what we're doing here is minimizing the recovery time, so by the time they get back to start their week their aches and pains are gone and it doesn't take until Tuesday or Wednesday to get back to speed," Nelson said. "This is without question monumental to them that we've now escalated things."
Sachem North junior quarterback Trent Crossan has been nursing knee and hamstring injuries all season. He tore his ACL as a sophomore and has been hampered by nagging pain through the first four weeks of 2012. The bath, however, has aided in his recovery time, especially after his eight-touchdown marathon performance against Bay Shore two weeks ago.
"It takes all the soreness out of you," said Crossan. "That sharp, sharp soreness is definitely out after ice baths."
Steve Mills, a senior lineman at Sachem North and team captain, can't wait for Sunday and the exhilarating feeling his body experiences. He wants more and he'd stay all day if he could.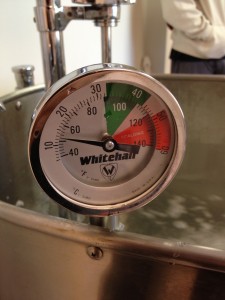 "It helps get your legs back under you, especially after a long game," he said. "The hardest part is getting in there, but once you're in, it feels good. Coming in your legs feel like Jello, but while you're in the ice bath, it numbs you. You feel like you have more life."
Sachem is no stranger to ice baths. At football training camp in Fishkill, N.Y., Sachem trainer Mike Wulforst has employed ice baths for a number of years, not long after the death of Minnesota Vikings lineman Korey Stringer, who passed away due to complications from a heat stroke in 2000.
When Wulforst was hired by Sachem in 1995, the high school was known as Sachem U because of its vast student population and dominant stretch of success across Long Island in all sports. With that "U" mindset came the thought process of providing exceptional and beneficial advantages for Sachem's athletes, on a higher level than its opponents. Ice baths at Fishkill was one of those thoughts.
"Ice gets in there, slows everything down, promotes some healing processes, there's an increase in blood flow, takes away the toxins that are there and makes them feel better faster," Wulforst said. "We're all about trying to give our athletes any edge we can, any way we can, within legalities, to give them an athletic advantage."
At Excel, athletes can also take advantage of time with a sports physical therapist, sport training and conditioning specialist and licensed massage therapist after their bath session.
Among the many specialists on-hand at Excel on Sunday mornings is Rob Malichio, a certified pro sports trainer, who has worked with some of the biggest names in Major League Baseball and the National Football League. He's passionate when he talks about helping young athletes recover correctly, providing them services they've never experienced and taking them to the next level. Crossan, and his older brother Dalton, who excelled as one of Sachem's top athletes of all-time, are both products of Malichio's training regimen and recovery processes.
"Nobody addresses these types of things outside of a very high-end facility," Malichio said. "Some players will come home and cry because they don't get the care that they need. This type of therapy is available to the athlete and has to be done in a very professional, very safe and very well organized manner. It's developed with professionals coming together."
Nelson agrees.
"We love sports medicine, we love football and we wanted to put together a group of services that would be beneficial," he said. "It's really unavailable to high school football players, especially this collection of services. We're bringing professional services to a high school player."
-Words by Chris R. Vaccaro