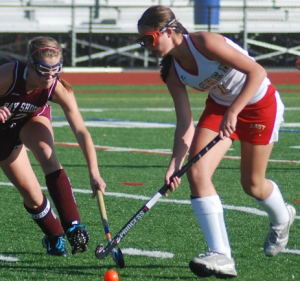 Like daughter, like mother. Katie Trombetta has committed to play field hockey at the University of Michigan, the same place her mother, Grundy Avenue Elementary School Principal and Sachem alum Patti Trombetta played nearly 20 years ago.
Trombetta, one of the top field hockey recruits in the nation, currently leads Long Island in scoring with 32 points, including 20 goals and 12 assists. Trombetta is the vocal and physical leader for Sachem East, who at 16-0 is a favorite to run the table and win its second straight Class A state title.
Besides a verbal committment and scholarship to play for the Wolverines, Trombetta also has a state championship, All-American selection, a nod to the Team USA U-17 squad, and a handful of other individual honors on her resume, and she's only a junior.
Among her other potential destinations were Virginia, Duke and Northwestern, but Michigan made the most sense considering its academic ratings, its No. 10 national ranking in field hockey and the familiar connection to home.
"I loved all my options, but when it came down to it, it was a feeling," she told Newsday. "Seeing everything there and how well they treated me made the decision easier. I had an awesome time."
Trombetta and her mother are not the only Sachem alums to play sports at Michigan. John "Jumbo" Elliott, who spent more than a decade in the NFL with the Giants and Jets, was one of the largest and toughest linemen to play for the Wolverines, and recent Sachem North alum Gerald Logan is on the men's lacrosse team at Michigan. A call from former Sachem football coach Fred Fusaro to Elliott, and an early morning chat with Trombetta – then known as Patti Farley – aided in her decision to originally attend the school.
"I am so proud of her," Patti said. "It was great being back on campus with her and I can't wait to spend four more years there watching  some great hockey. It's a good thing she learned the Michigan fight song since birth. Go Blue!"
Top-seeded Sachem East has a first round by for this year's Suffolk County Class A field hockey playoffs. On Wednesday, weather pending, Sachem will host the winner of No. 8 Comsewogue and No. 9 West Islip.
-Words by Chris R. Vaccaro