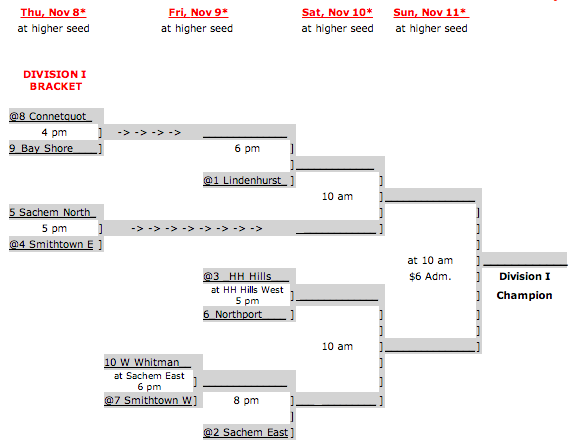 Sachem North boys volleyball upset fourth-seeded Smithtown East in the Suffolk County Division I quarterfinals Thursday night.
The fifth-seeded Flaming Arrows torched the Bulls, 3-0, in a 25-12, 25-20, 25-18 victory.
Sachem (8-7) was led by John Echel, who added 17 kills and five blocks, Brian Trusley who added 12 kills and Alex Lazarich, who had nine kills and four digs.
The Flaming Arrows will play the winner of No. 1 Lindenhurst vs. No. 8 Connetquot on Saturday at 2 p.m. in the semifinals at the higher remaining seed. It was originally reported the game was at 10 a.m., but there was an error on the Section XI bracket.
Second-seeded Sachem East will play its quarterfinal match Friday night at 8 p.m. against the winner of the No. 7 Smithtown West vs. No. 10 Walt Whitman contest.
RELATED: Updated Section XI playoff information
-Words by Chris R. Vaccaro