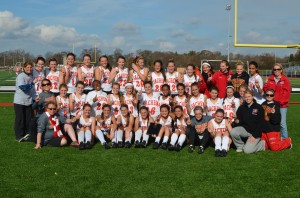 Although the county field hockey championship was played in its backyard at Sachem High School North, Sachem East took the five mile excursion as a business trip. It's just another stop on the journey of defending its state title crown.
Top-seeded Sachem East captured its second county championship in as many seasons after beating fifth-seeded Bay Shore, 3-0, Monday afternoon in the Suffolk County Class A final at Fred Fusaro Alumni Stadium in Lake Ronkonkoma, N.Y.
Sachem (19-0) will play Nassau champion Massapequa (11-4) on Tuesday night at Adelphi University at 6 p.m. in the Long Island championship.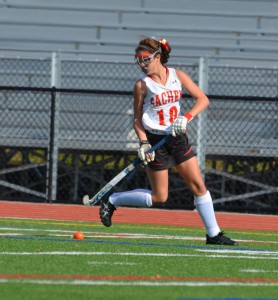 "I'm so pumped for our team. They've just been so phenomenal," said Sachem East coach Tina Moon. "We knew Bay Shore was going to hit the ball hard, so our initial game plan was to go in and pressure them hard."
Sachem East has not lost a game since Oct. 24, 2011, a stretch of 384 days. Sachem has won its last 26 games and is 40-1 in the last two years. The only blemish was a regular season loss to Smithtown East.
The Arrows hung tough defensively, perserving its third straight playoff shutout and 13th shutout in its last 18 games. Sachem has six shutouts in its last nine playoff games over the last two seasons.
Cara Trombetta put Sachem on the board first at 26:02 of the first half and added to its lead with a goal from her older sister and Michigan-bound Katie Trombetta at 7:35. Katie Doherty assisted on the second goal.
Bay Shore's best chance to score came on a penalty shot in the second half, but Sachem goalie Jordan Miller stopped the point-blank shot with ease and kept the shutout intact.
"Jordan is tough as nails," Moon said. "She's a gamer. Sometimes I don't think she gets enough credit."
Katie Shanahan, who scored two goals Sunday in the semifinals, added an insurance goal for Sachem at 11:52 of the second half.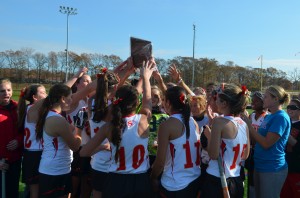 Shanahan was pulled up late last season as a freshman during Sachem's state title run. Moon has been watching her development, which has skyrocketed in less than a year.
"She's fast as all heck, and has the quickest feet out there," Moon said. "She's someone to be reckoned with. It's exciting."
By Tuesday night, Sachem will have played four games in four days, a grueling stretch by all means.
"Your body gets tired and your brain gets tired," Moon said. "You have to do things to mentally prepare yourself even more because your legs are tired, but we're focused."
RELATED: PHOTOS: See more images from Sachem's playoff run

Scoring Summary
-S: Cara Trombetta, unassisted, first half
-S: Katie Trombetta from Katie Doherty, first half
-S: Katie Shanahan, unassisted, second half
-Words and photos by Chris R. Vaccaro