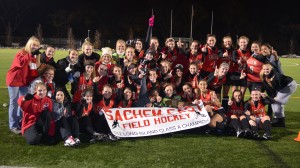 In a rematch of last year's Class A Long Island Championship, Sachem East got the best of Massapequa and repeated as champions after a 3-0 victory on Tuesday evening at Adelphi University.
It's been a whirlwind four days for Sachem, who has played four games in a row, including the Suffolk County championship on Monday afternoon.
"It's been such an adrenaline rush," Sachem coach Tina Moon said. "I'm so proud of these girls. They've worked so hard and stayed so focused. Our intensity level was so high. They were so hungry and eager."
Sachem, defending state champions, will play Williamsville North in the New York State semifinals on Saturday at Cicero-North Syracuse High School.
Sachem East has not lost a game since Oct. 24, 2011, a stretch of 385 days and has won its last 27 games. That's a mark of 41-1 over the last two years. Massapequa (11-5) has an impressive streak of its own still in tact, having appeared in four straight Long Island championships.
Cara Trombetta and Katie Doherty earned all-tournament honors.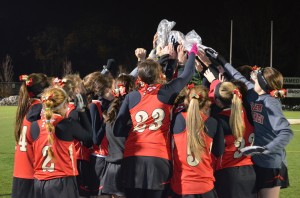 Kayla McKeveny opened the scoring for Sachem in the first half at 8:43. Nikki Healy, off an assist from Katie Doherty with 28:57 remaining, made it 2-0, and Katie Shanahan scored her fifth goal in the last four games to make it 3-0.
The Adelphi-bound Jordan Miller made two saves in the shutout victory. By all means, it was a consumate team effort.
Describing the feeling of victory, Healy said it best.
"I can't even explain all the emotions I'm feeling right now," Healy said. "This is what we've been working for, and now we're going back to states."
Scoring Summary
-S: Kayla McKeveny
-S: Nikki Healy
-S: Katie Shanahan
-Words and photos by Chris R. Vaccaro