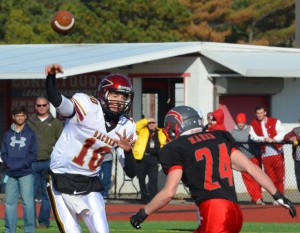 If there was ever a Long Island high school football game to be dubbed an "instant classic", the Suffolk County Division I semifinal contest between Sachem East and Connetquot was it.
The last minute of the game was something these players and coaches will be telling their children and grandchildren about for decades. In a two-year stretch complete with countless memorable moments on the gridiron, the touchdown pass from Danny Wolff to Ryan Dippel in the final seconds of their 33-28 playoff victory on Saturday at Connetquot High School will go down as the greatest.
Even if Sachem East (6-4) can defeat William Floyd (8-2) in the Suffolk County championship next weekend at Stony Brook University, that 20-yard touchdown pass to the corner of the end zone, on the newly installed turf in Bohemia, N.Y., had legendary written all over it.
"I saw the ball up there and it was my time," said Dippel, who caught a 45-yard touchdown pass on Sachem East's first offensive drive following an interception he made. "I didn't think, I just reacted. I was in complete disbelief. I couldn't believe I caught it. I'm at a loss for words right now."
"I didn't know that Dippel caught it until the ref put his hands up," said Steven Casali, who rushed 44 times for 237 yards and scored two touchdowns in the game for Sachem East. "I was in such disbelief, I'm still in shock right now. I can't believe that just happened. I'm going to watch that play over and over again. I'm amazed."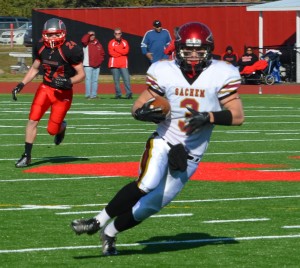 When the story is told about that touchdown, there are some details that can not be left out. Rewind to 5:18 of the fourth quarter. Connetquot's Ryan Harvey had just scored on a 51-yard touchdown run, his third score of the game, that for a brief moment took the wind out of Sachem East's sails.
On its next possession, East drove down field, setting up a 5-yard touchdown run by Casali with 51 seconds left in the game. Sachem East trailed, 28-27, with an important decision to make: kick the extra point or go for two.
East assistants Phil Torregrosa and Joe Maro sprinted down the sideline to former legendary Sachem coach Fred Fusaro for his opinion. Fusaro said kick.
Sachem East went for two and put the ball in Casali's hands as everyone would expect. Casali, however, came up just short and was stopped at the goal line. Connetquot led by one point.
"It's not over," Sachem East head coach Mark Wojciechowski thought, "we get the onside kick and we still have the opportunity and we went with it."
East completed a special teams gem when Balsamo recovered the onside kick. With 45 seconds left Wolff hit Brian Balsamo with a 14-yard pass to the 35 yard line. Shortly after, Wolff looked for Balsamo in the corner of the end zone, and Connetquot was flagged for defensive pass interference, which brought East to the 20-yard line.
With 10 seconds left on the game clock, Wolff rolled to his right, eyed Balsamo and Dippel in the end zone, tossed the ball up and completed the pass of his life to Dippel, who was in between three in turn caught the ball of his life. Game over. Connetquot players sat on the turf stunned while Sachem East players, coaches and fans rejoiced.
"Ryan Dippel from day one has done everything, kick offs, blocking, anything we ask him to do," said Wojciechowski. "Clutch all year for us, really clutch for us.
"Connetquot is a great team. It was a great game, great team, a great day. If we played our game and didn't make mistakes we could beat them. We did it today."
Fourth and Long
This will mark Sachem East's first appearance in the Suffolk County Division I championship.
Harvey finished with 24 carries for 163 yards and 3 touchdowns, while quarterback Brian McKean was 15-for-22 for 163 yards passing.
Sachem East has outscored its opponents 72-41 in the fourth quarter this season.
Video Recap: Relive the action from Saturday via MSG Varsity

Scoring Summary
-S: Wolff to Dippel 45 pass, kick good
-C: Renfroe 2 run, kick good
-S: Casali 13 run, kick good
-C: Harvey 9 run, kick good
-C: Harvey 3 run, kick good
-S: Wolff to Foster 20 pass, kick good
-C: Harvey 51 run, kick good
-S: Wolff to Dippel 20 pass, kick good
-Words and photos by Chris R. Vaccaro