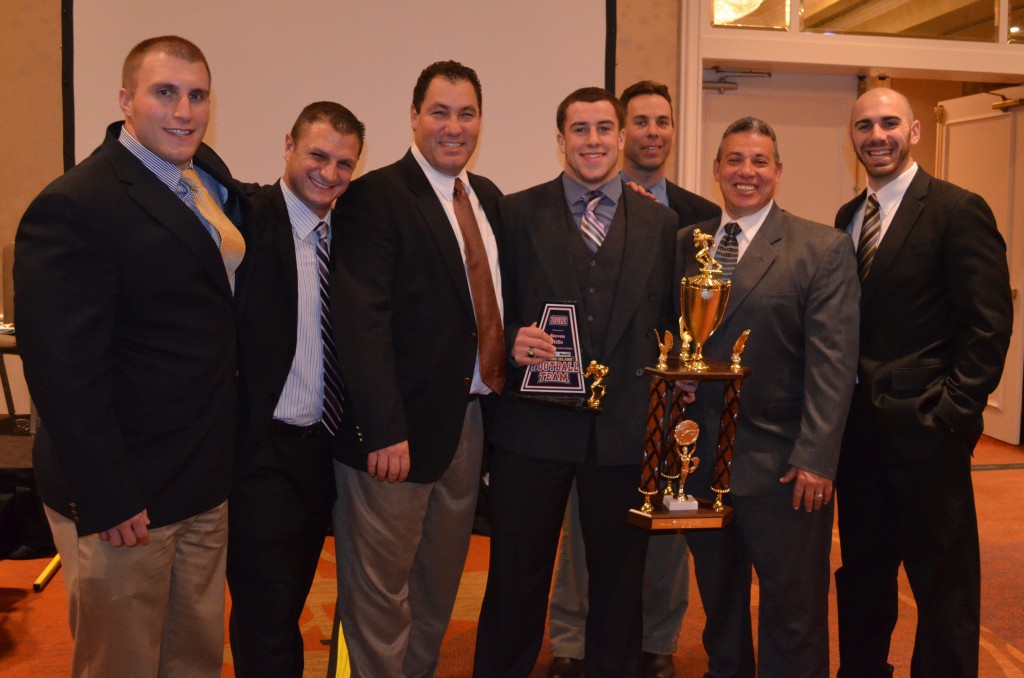 Sachem lineman Steven Mills became the third player in school history to win the coveted Zellner Award presented to the top lineman in Suffolk County.
Mills was one of three finalists for the award given at the annual Suffolk County Football Coaches Association awards dinner on Monday evening at the Hyatt in Hauppauge, N.Y.
Previous Sachem winners include Michael Farley (1983) and Peter Maiello (1990). Both had storied pasts at Sachem before playing college football at Cornell and Georgia Tech, respectively. They each share a comment trait with Mills: intelligence.
Not overly big for his center or nose guard positions at 6-foot and 240 pounds, Mills makes up for size with smarts.
"Calling defensive alignments from the nose position hasn't happened here in a long time," said Sachem coach Dave Falco, who played with Farley. "They're worried about the center getting in the stance, he's shifting the line and making checks."
"The coaches give me a big responsibility being center," he said. "I have to point out the middle linebackers, which linemen to block. It's a well-oiled machine and I'm in the middle of it and I'm honored to be there. We have smart coaches and the coaches pride themselves on having good linemen."
Intelligence aside, Mills also had grit and determination to go from being not even All-Division as a junior to the top lineman in the county a year later. He credits wrestling as a key catalyst in his athletic abilities.
"After a good wrestling season it made me tougher and I put on 35 pounds of muscle," said Mills, who was also named one of 10 players from Suffolk County to be First Team All-Long Island. "Being bigger, faster and a leader on the team made me work harder and be an example to the other players."
After Sachem lost Trent Crossan and Tyler Andreassi to injury during the season, Mills assumed leadership responsibilities, something difficult for non-skill players to achieve. He did it and succeeded with class and success.
Mills is also fortunate to block in a system predicated on the run. Sachem has rushed for almost 8,000 yards in his two varsity seasons.
"I was a Zellner Award winner because we run the ball so much and I get a lot of highlights from running the ball," he said. "I love our philosophy of ground and pound and being a powerhouse football team."
Related links
-Mills, DeRossi play in PAL All-Star game
-VIDEO: Watch Mills' highlight films on HUDL
-PHOTOS: Check out a gallery of Steve Mills
-Falco wins Division I Coach of the Year
-Words by Chris R. Vaccaro