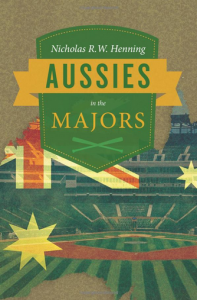 In the depths of research and reporting I've done about Sachem, this story brings about a unique subject and cultural element not yet tackled. Sachem, the school district, the football program, and myself, have been mentioned in a new book by Australian writer Nicholas R.W. Henning.
Full disclosure in that Nick is a close friend, but he was more than kind to focus part of his latest book, "Aussies in the Majors," on his recent trips to Long Island in 2011. During one of those trips I took him to Sachem's Fred Fusaro Alumni Stadium.
"The artificial grass was like nothing I'd seen in Australia," Henning wrote. "I've seen plenty of Astroturf in my time, but this stuff included synthetic grass blades. With the freezing weather in the northeast of America during their winter, it made sense to use a surface which could cope better with the elements."
While there are numerous mentions of his time in New York, and Long Island specifically, the book is largely about Henning tracking down Australian players currently honing their talents and aiming for the majors. He also meets and discusses a range of people connected with professional baseball: players, administrators, broadcasters and fans.
We drive to Pennsylvania to interview two Australian natives, Tim Kennelly and Clayton Tanner, playing minor league ball. The video interviews we recorded were featured on some Australian baseball media websites at the time.
Henning's meetings with Australian players reveal how they adapt to living far from home and playing in the back-blocks of the country, always hoping that their big day will come.
In the final section of the book, the author takes a critical yet affectionate look at Australian baseball today and how it might develop in the future. He acknowledges the largely unsung giants of the local game, including those pioneers who were the first to play professionally in the U.S.
CLICK HERE to purchase a copy of Henning's new book
-Words by Chris R. Vaccaro