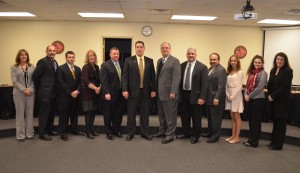 Teachers and math department chairs from all four Sachem middle schools gave a brief presentation about the middle school common core for math during Wednesday's Sachem Central School District Board of Education work session.
Stressing the cohesion of working together, brainstorming and sharing lessons, help packets and ideas, they presented a confident and steadfast approach to handling the common core.
Sachem has also scheduled many information sessions to offer assistance to the parents and students who may be experiencing challenges with the district's new Pearson math curriculum. Each of Sachem's elementary schools and middle schools have the dates, times, location and information you will need to take advantage of this opportunity.
CLICK HERE to view upcoming info session dates/times
During Wednesday's meeting, the board voted to approve requirements for school personnel who will be unable to work during the period of time previously identified as the February break.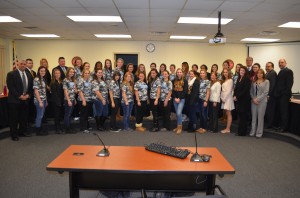 Staff members must work with the district's Personnel Office regarding their individual situations with previously scheduled vacations during those days. If they are unable to change dates or recoup money from scheduled trips, they will have to use personal days.
"The feedback we've gotten so far, for the most part, the airlines and certain resorts are being pretty understanding," Sachem Superintendent James Nolan said. "Overall it's been pretty good. Everybody knows what they need to produce to Gail [Grenzig's] office in order to use personal days."
Related to the same dates in February, Sachem reissued its 2012-2013 calendar online, changing the February month to adhere to the changes voted on during the Dec. 5 board meeting.
CLICK HERE to access the updated 2012-2013 school calendar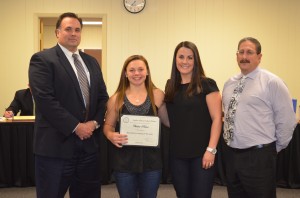 Another notable action item included the board's approval of a donation of $11,139 from the Sequoya Middle School Physical Education Department and Leaders Club for Paul DiIorio, a Sachem alum suffering from a rare form of cancer.
Recognitions
The Sachem East field hockey program was recognized for winning its second straight state championship and for many of its individual honors, including Katie Trombetta's Long Island Player of the Year recognition.
Sachem North field hockey goalie Chelsea Palma was recognized for being named MSG Varsity's Goalie of the Year.
Sachem North football coach Dave Falco was honored for reaching the 50-win plateau. Sachem North baseball coach Tom Gambino and Sachem East wrestling coach Sean O'Hara, both who did not attend the meeting due to other commitments, were honored for reaching the 100-win plateau in their respective sports as well.
Next up: The next regularly scheduled Sachem Board of Education meeting will be held on Wednesday, Jan. 16 at 7:30 p.m. All meetings are held in the Administrative Annex at Samoset Middle School, unless otherwise noted.
-Words by Chris R. Vaccaro