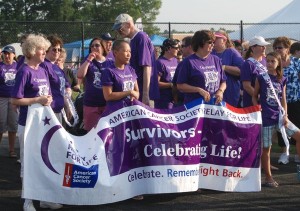 It is that time of year again. Relay season has officially started. This year, the Relay for Life will take place at Sachem High School East on June 8 and 9.
The official Relay Kick Off will be held on Thursday, Jan. 31 at 7 p.m. in the auditorium at Sachem East.
To stay updated on Relay events you can check back here, but also follow the official Sachem Relay for Life site.
Here's a brief run down of what to expect over the next few months regarding the Relay …
Monthly Meetings: ALL MEETINGS BEGIN AT 7:00 p.m.
*Monday, Feb. 25, 2013 at NORTH
*Monday, March 11, 2013 at EAST
*Thursday, April 11, 2013 at NORTH
*Thursday, May 23, 2013 at EAST
*Monday, June 3, 2013 at NORTH (Logistics & T-shirt distribution)
*Relay For Life of Sachem: June 8 – 9, 2013 at Sachem High School EAST, 6 p.m. – 6 a.m.
-Words by Chris R. Vaccaro