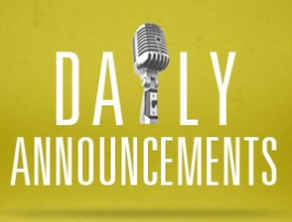 Here's a look at the daily announcements from Sachem East and Sachem North from Tuesday, Jan. 15:
Sachem High School East
-Attention Revelations Literary Magazine Staff:  Our meeting this  month will be January 24th. Please continue to work on your writing and artwork.
-Ninth and tenth graders interested in attending the Awake-A-Thon should pick up a permission slip in B 302 or the main office. We are requesting a donation of thirty dollars to one of two charities: Ninth graders will be giving their money to Little Angel Fund, while tenth grade students will be donating money to American Red Cross on Long Island. In addition to raising money for two worthy causes, there will be pizza at midnight, Ice cream sundaes (with all the toppings) at 2:00 and bagels at 6:00 in the morning! Talk to your friends, help each other raise some money, and join us for a night of fun, games, volleyball, basketball, Play Station, and tons of food! Hope to see you there.
-The Science Club will have its next meeting on Wednesday, Jan. 16, during 9th period in Room B305.  All members are invited to attend to discuss field trip changes.
-Attention FRENCH Inductees to the Foreign Language Honor Society; There is mandatory Pledge meeting on Thursday, Jan. 17, 9 Period in A220 , BRING your pledge. Attendance will be taken.
-The next GSA meeting will be Jan. 23, 9th period in room A150.
-The Culinary Club meeting that was scheduled for today is canceled. We will meet Thursday, January 17, in room A133 9th period. Sorry for any inconvenience this may cause you.
-All Tri-M Music Honor Society members must pick up the scholarship recital paperwork in the orchestra room by, Thursday, Jan. 17.
Sachem High School North
-YEARBOOKS MUST BE ORDERED BY FEBRUARY 1, 2013.  DON'T BE LEFT OUT SENIORS!!!!  ORDER YOUR YEARBOOK ON LINE.  GO TO NORTH HOMEPAGE, CLICK ON LINK AND THAT'S ALL THERE IS TO IT!!
-THIS WEEK IS WATER AWARENESS WEEK: Please help spread the awareness by buying a water drop outside the cafeteria for one dollar.  If you are in the Honor Society, and would like to earn a service point, please see Ms. Marlowe in Room E118.
-JUNIORS!!!  This is it!!! The moment you've been waiting for!!  The Junior Banquet sign-ups are just around the corner.  On Thursday, January 17th, 9th period in the faculty cafeteria, you will be able to sign up for the ONLY formal event for the Junior class of 2014.  Look for info in your history class.  We hope to see you at the Junior event of the year.
-SACHEM CARES:  Sachem Cares will be meeting Thursday, January 17th in the teacher's cafe to help with Junior Banquet Sign ups.
-The Senior Entertainment Book Fundraiser is over and many still owe $30.00.  Please bring $30.00 to Mr. O'Brien in Room D203 or Mrs. Riegger in A217.  If you do not settle your account you will not be able to participate in senior activities (senior trip, prom, senior day).
-RELAY FOR LIFE: IT'S THAT TIME OF YEAR AGAIN!!  It's Relay for Life time which means kick off is coming!! Please come down on January 31st to Sachem East and learn all about RELAY FOR LIFE!!!
-NATIONAL HONOR SOCIETY MEMBERS:  Our next meeting will take place this Thursday, January 17th during 9th period in the back cafeteria.  All members are expected to attend.
-SOCIAL STUDIES HONOR SOCIETY:  All Social Studies Honor Society applicants must report to the Little Theater on Thursday, Jan. 17 during 9th period to pick up decision letters.  Any questions, please see Mrs. Ogozalek in Room D207.
-ART CLUB:  Art Club will be meeting Thursday in Room H113 during 9th period.
-MODEL UN MEETING:  There will be a Model UN meeting on Friday, Jan. 18 in Room D211.  All are welcome!!  Permission slips are needed as soon as possible.
-COMPUTER REPAIR: The Computer repair class, in room A131, offers all school district employees, families, students and residents,  a free computer repair service.  Since September we have fixed 24 computer free of charge.        If you know of anyone in need of computer services please let me know. Having Computer Problems?Have us troubleshoot and fix your computer for FREE.  Bring any computer to room  A131 EAST or email Mr. Cifuni acifuni@sachem.edu or   716-8200 Ex.5218  We will:Troubleshoot problems;Remove Viruses & Spyware;  Repair all software issues;  Repair any hardware issues;  Install new hardware;  Save money.  We will also gladly accept any non functioning computers and computer parts as donations for students to work on. No monitors please.  Andrew Cifuni, Sachem East CRT.