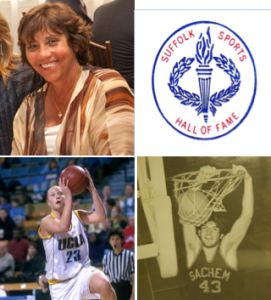 In a banner year for Sachem athletics, the Flaming Arrows will have three famed members of its historic lore inducted this year to the Suffolk County Sports Hall of Fame, according to hall representatives.
Sachem alums and basketball stars Jeff Ruland and Nicole Kaczmarski, as well as former Sachem girl's basketball coach Risa Zander will all be inducted into the hall of fame in May.
Jeff Ruland, who graduated from Sachem in 1977, played basketball in the NBA for nearly a decade in Washington and Philadelphia and is currently the head men's basketball coach at the University of the District of Columbia. His No. 43 is retired at Sachem.
Nicole Kaczmarski graduated from Sachem in 1999 and is one of the most prolific scorers and players in New York State basketball history. She holds the school scoring record, ranks as one of the highest scorers in Long Island history, and was one of the most highly recruited players in American high school sports history before accepting a scholarship to play at UCLA. She was drafted by the New York Liberty of the WNBA, but did not make the team. Today she is involved with basketball as a color analyst for MSG Varsity. Her No. 23 is retired at Sachem.
Risa Zander was the head girl's basketball coach at Sachem High School from 1975 to 1990 where she won 338 games, one state title, and four county titles. She is also a member of the New York State Basketball Hall of Fame and was named National Coach of the Year in 1988.
After the 2013 induction there will be a total of 10 former Sachem athletes or coaches in the Suffolk County Hall of Fame.
Suffolk HOF Inductees from Sachem
John "Jumbo" Elliott (football player), 1993
Joe Cipp Jr. (football coach), 1996
Neal Heaton (baseball player), 1997
Diane Nelson (equestrian), 2000
Fred Fusaro (football coach), 2003
Jack Mahoney (wrestling coach), 2004
Bill Batewell (baseball coach), 2010
Risa Zander (basketball coach), 2013
Jeff Ruland (basketball player), 2013
Nicole Kaczmarski (basketball player), 2013
-Words by Chris R. Vaccaro