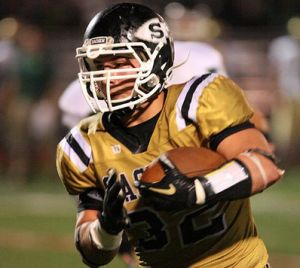 Tyler Andreassi left his legacy on the field during his three-year football career and now its remembered in the history and record books.
Andreassi was honored as Sachem Football's Black Helmet Award winner, Team MVP and Defensive MVP at the program's 38th annual dinner held Sunday evening at Villa Lombardi's.
The Black Helmet Award was started by legendary coach Fred Fusaro in 1982. He hand makes a lamp out of a Sachem football helmet and it is presented annually to a player that perfectly represents Sachem football in mind, body and spirit.
"Coach Fusaro used to say that if we could have 11 of those guys on the field we'd be unstoppable," Sachem coach Dave Falco said.
Andreassi, who was named All-State, All-Long Island, All-County and All-Division this season, will graduate as one of the top linebackers in school history. He had 165 career tackles, which ranks him sixth all-time in program history and also rushed for 1,169 yards which is good enough for No. 18 all-time in Sachem history. He is the second player (Jesse Scanna 2010) in the program's 52-year history to rush for 1,000 yards and record 100-plus tackles in his career.
On another historical note, Andreassi is the fourth player in Sachem history to win the tri-fecta of Black Helmet, Team MVP and Defensive MVP: James Leach (1989), Jesse Brush (1998) and current Sachem assistant coach Thomas Pandolf (2003).
Trent Crossan and Malik Pierre were Co-Offensive MVPs this year. While Crossan missed most of the season with a leg injury, he did rack up 528 rushing yards and 11 touchdowns. His historic performance against Bay Shore during Week 2 of 237 rushing yards and eight touchdowns will be remembered forever. Pierre more than doubled his stats from his sophomore year in 2010, putting up 854 rushing yards and five touchdowns on 84 carries. He also threw two touchdown passes.
Steve Mills, who gave an emotional speech at the end of the awards dinner directed at the underclassmen, was named Lineman of the Year on both sides of the ball. It's no surprise considering he was named the Zellner Award winner as the top lineman in all of Suffolk County and was an All-State and All-Long Island selection as well. Conor Harris was also a Co-Offensive Lineman of the Year.
The Defensive Back of the Year award was given to sophomore Kevin Bragaglia, who recorded seven interceptions this season, the second most in a single-season in program history. He is three away from tying Bryan Gil's career-record of 10.
Bryan Morris, Sachem's kicker, was named Special Teams Player of the Year. He is two extra-points away from setting the Long Island record for PATs and is within striking distance of breaking the Long Island record for total kicking points.
Kevin Lathan won the Patrick Harkins Hustle Award, while Rich Fish was Scout Team Player of the Year and Tyler Witt was named Most Improved Player.
This years Coaches Awards went to Nick DeRossi, Anthony DeMetteo, Mike O'Donnell, Justin Rivera and Michael Slattery.
Family ties
Andreassi's brother Michael won the Black Helmet Award in 2010. They are the second brother-duo to win the honor after Peter (1997) and Justin (2000) Dowling. The Andreassi brothers are also the fourth set of brothers to both win Defensive MVP honors.
Crossan and his brother Dalton (2010 and 2011) are the only brothers in Sachem history to win Offensive MVP honors. Their father Michael (1982) also was an Offensive MVP at Sachem, making for the first time a father and his two sons all won an honor in any award category.
2012 Sachem Football Award Winners
Black Helmet Award: Tyler Andreassi
Team MVP: Tyler Andreassi
Defensive MVP: Tyler Andreassi
Offensive MVP: Trent Crossan and Malik Pierre
Defensive Lineman of the Year: Steven Mills
Offensive Lineman of the Year: Steven Mills and Conor Harris
Defensive Back of the Year: Kevin Bragaglia
Special Teams Player of the Year: Brian Morris
Patrick Harkins Hustle Award: Kevin Lathan
Scout Team Player of the Year: Rich Fish
Most Improved Player of the Year: Tyler Witt
Coaches Awards: Nick DeRossi, Anthony DeMetteo, Mike O'Donnell, Justin Rivera and Michael Slattery
-Words by Chris R. Vaccaro