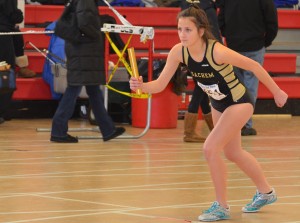 Sachem North edged Sachem East by 2.5 points to capture this year's League I girls indoor track and field championship held at Suffolk West on Saturday afternoon.
After a zone disqualification in the 4×200 relay, Sachem North needed a strong finish in the 4×800 to secure its first league title since Sachem split its district in 2004-2005. The Flaming Arrows finished in third that race to win the league championship by narrow margin with a 144.5 points to Sachem East's 142.
Sachem had won nine girls winter track league championships prior to the split, the last in 2002. Last year Sachem North finished second to Sachem East, who has won four out of the last five league titles.
"It really took every event," said Sachem coach Alex Young. "You look back and every point mattered. In a couple of races there were a couple of points where a North athlete edged out an East athlete and that not only becomes a two-point swing, but a four-point swing. The battle went right to the last event."
Melissa Michels had a day for Sachem, winning the 55-meter dash and 300-meter run, and placing second in the long jump.
While that was a goal of Sachem's to have Michels perform and earn points across the day, "it's also a tall order in a 2.5 hour meet," said Young.
Kelly Lavan and Elise Ramirez were asked to perform three big times in different distance races.
"It's the very thing these girls train to do, to reach down and dig in," Young said. "They believed in themselves and the team's ability to deliver."
On the eventual 4×800 relay third place finish, Young said leadoff leg Monica Abrams hadn't run all day so she was fresh to set the tone for relay mates Jessica Humann, Ramirez and Lavan.
Sachem North also got help in ponts with first and second place finishes in both the long jump and high jump.
For Sachem East, Gabby Trejo captured a shot put league title, Holly Lindoe won the 1,500-meter racewalk, Laurie Semetsis won the 600-meter run and Shannon O'Hehir won the 1,500-meter run.
Both track teams will compete in the Suffolk County championship meet next Saturday at Suffolk West.
RELATED: PHOTOS: See more images from the league championship
RELTED: RESULTS: Click here to see fill league championship totals
Winners from Sachem East and North during league championship
High Jump: Gabriella Czerw (North), 4-11.00
Triple Jump: Sunja Joseph (North), 36-06.25
Long Jump: Sunja Joseph (North), 17-00.25
Shut put: Gabby Trejo (East), 37-06.50
1,500-racewalk: Holly Lindoe (East), 7:17.33
300-meter dash: Melissa Michels (North), 42.65
4×800 relay: Casey Gelderman, Jayda Allen, Shannon O'Hehir, Laurie Semtsis
1,500-meter run: Shannon O'Hehir (East), 5:04.28
600-meter run: Laurie Semetsis (East), 1:42.60
1,000-meter run: Kelly Lavan (North), 3:07.11
55-meter dash: Melissa Michels (North), 7.44
Overall standings for the meet
Sachem North, 144.50

Sachem East, 142
Longwood, 47.50
Commack, 41
Middle Country, 32
Ward Melville, 25
William Floyd, 18
Brentwood, 8
Patchogue-Medford, 7
-Words and photos by Chris R. Vaccaro