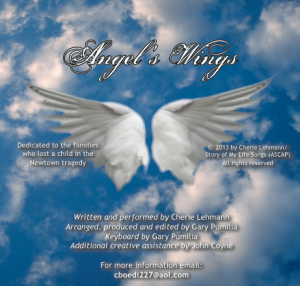 Following the tragedy at Sandy Hook Elementary School in Newtown, Conn., a music teacher from Sachem was inspired to write and dedicate a song to the victims and their families.
Cherie Lehmann, who has been teaching music at Gatelot Avenue Elementary School since 2001, wrote a song called "Angel's Wings". She is selling copies of the track on CD for $5 and 100 percent of the proceeds are going to the victim's families.
After the tragedy occurred, as with many others, Lehmann couldn't stop thinking about it and was very emotional.  One night less than a week after it happened, she couldn't sleep and started to think about words to a song.
"They lyrics started popping into my head, stanza by stanza as if someone were dictating to me what to write," she said. "I wrote everything down and the next morning I put the words in order like a jigsaw puzzle. I had the lyrics finished in about a half hour and I wrote the music that same day."
The director of her church folk group, Gary Pumilia, owns a recording studio and arranged and produced the song, according to Lehmann.
She also incorporated some Gatelot students into the track. Marion Marshall, a second grader, and Samantha Succarotte, a first grader, appear at the end.
Lehmann will be placing CDs and flyers in every building in Sachem. People may also email her at CLehmann@Sachem.edu for a copy.
From Cherie Lehmann: "I was greatly affected by this horrific incident. As a mother and teacher I kept putting myself in the shoes of those who lost a loved one. I couldn't imagine losing one of my children. One night I couldn't sleep and lyrics starting popping in my head.  It was as if someone were dictating to me what to write.  I finished the lyrics the next morning and by the following evening the music was finished as well.  After "Angel's Wings" was written, I thought it would be a nice gesture to use this song as a fundraiser. I felt a need to show support by sending the families a check along with copies of the song.  My greatest hope is to be able to offer comfort to those who were so affected by the tragedy and to provide some financial support to the families of Newtown."
RELATED: Listen to "Angel's Wings" on YouTube
Lyrics to Angel's Wings by Cherie Lehmann
Verse 1
I see you looking toward the sky,
Wondering when you will not cry.
It's been softly raining throughout the day,
Much like the tears streaming down your face.
Wish I could console you, take your pain away.
I am with you in dreams and always.
Embrace me with memories , hold me in your heart.
Love has no boundaries that can keep us apart.
Refrain
Every night sing me a lullaby and when you do try not to cry.
For God gave me little angel's wings, so I can fly close by when you sing.
I am with my friends.  I am happy here. Please don't worry and do not fear.
For God gave me little angel's wings, so I can fly close by when you sing.
Verse 2
I am here now, touching your hand.
Wish I could help you understand,
Someday when you look up toward the sky,
You will smile at me instead of cry.
When a candle flickers, know that it's me.
May it bring you warmth and bring you peace,
To know I'm close, I am always near by.
God gave me angel's wings.  Now I can fly.
(Official release of Sachem Central School District)