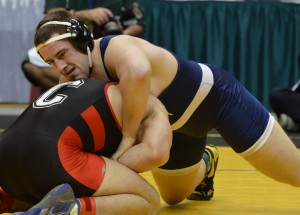 ALBANY — When Steve Mills looks back on his senior year at Sachem North, he'll be very satisfied.
Adding to his Zellner Award and All-State selection in football, he's now a New York State Public School wrestling champion and All-State on the mat.
Even after losing, 3-2, to Richard Sisti from Monsignor Farrell on Saturday night in the 220-pound New York State championship at the Times Union Center, Mills is still the top public school grappler in his class.
"Having the senior year I've had, I just wanted to come up here and place," Mills said, "and I did that. It's been a great year."
After losing in the Suffolk County Championship 10 days ago, he won a wild card bid to the state tournament and muscled his way through the championship bracket before falling to Sisti. He still finished as a state public school champion since Catholic and private schools compete in the same tournament.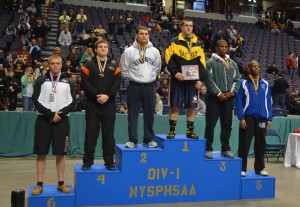 Sisti jumped out to a 2-0 lead early from a take down in the first 10 seconds. Mills added one point from an escape in the period, but Sisti added another in the second period, which proved to be the insurance he needed. Mills threw one more point on the board in the third period, but it wasn't enough.
"I knew he was going to come out physical and get that first takedown and he did," Mills said. "It was kind of hard to get back into it. I had a great tournament and I'm still proud to be a public school state champion."
News & Notes
Mills was the first wrestler from Sachem North to wrestle in a state championship bout since Chris Iorio in 2006.
Section XI captured its 21st team championship this year, which is more than any other section in New York State history.
RELATED: Recap of Day 2 from the NYS Wrestling Tournament
RELATED: Recap of Day 1 from the NYS Wrestling Tournament
RELATED: Notebook: Odds and ends from the mat
PHOTOS: See images from the entire NYS Wrestling Tournament
-Words and photos by Chris R. Vaccaro