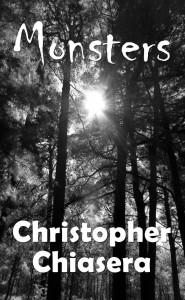 Chances are, Merrimac Elementary School student Christopher Chiasera has written more books than you. He has self-published two novels, which is pretty impressive for an 11-year-old.
Chiasera wrote "Monsters," his most recent work, an "epic adventure where the main character Robby is enthralled in a battle of good versus evil. It's earmarked in the young adult fantasy genre.
Asked why he writes books and spends hours of his time being creative beyond many 11-year-old's imaginations, he simply said "inspiration."
For his first book, "Hawks," he said, "at the time I was in second grade, I was reading a book series written by K.A. Applegate called 'Animorphs.' This series of books truly piqued my interest in writing."
He wrote a fan fiction book based off this series, introducing himself to the world of writing.
For open G.A.T.E. night this year, his project was, "How to Write and Self-Publish a Book," hoping to inspire other young writers.
"I went through the self-publishing steps with help from my parents which resulted in 'Monsters' being online and in print form," he said.
Chiasera's dream is to one day be a mainstream published author with more books. Stay tuned and remember the name.
CLICK HERE to view the book on Amazon.com
CLICK HERE to view the book page on LuLu.com
-Words by Chris R. Vaccaro