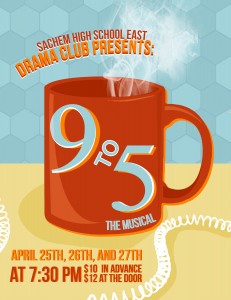 Originally a 1980 American comedy film, "9 to 5" tells the story of three working women living out their fantasies of getting even with their boss. In 2008 it was adapted to a musical and eventually hit Broadway in April 2009.
This week it swept through the auditorium at Sachem High School East and knocked the socks off anyone who attended. Two thumbs up for the Sachem East Drama Club.
Directed and produced by Ken Dobbins, "9 to 5" was an electric musical with fantastic story telling, enjoyable music and the flow and ebb of an off Broadway gem. Sachem, whether East or North Drama, continues to impress the thousands who attend these productions every fall and spring.
Franklin Hart, Jr., the male lead, was played by Jake DeRobertis. He made his first lead role after appearing as Lorrie in "Little Women," Mr. Mistoffelees in "CATS," and as the featured actor in "Voices from the High School".
Breanna Pariti played the lead female role as Roz Keith, and also made her first lead role at Sachem East. She also made her acting debut this year as Paulette in CM's Legally Blonde production.
The pit musicians and ensemble did a splendid job providing music during the production as well. It would be remissed not to mention assistant director Laura Leonardi, musical director Megan Finnerty, choreographer Jean Sorbera, conductor Dorie Downs and set/lighting design director Dan Lowis.
PHOTOS: See images from "9 to 5" the musical at Sachem East
Cast of Characters
Violet Newstead … Alyssa Masseria
Doralee Rhodes … Veronica Kelly
Franklin Hart, Jr. … Jake DeRobertis
Roz Keith … Breanna Pariti
Joe … Steven Drew
Dwayne … Brian Racniello
Josh … Joby Matthews
Missy … Alexis Tedesco
Maria … Sunny Balkin
Dick … Ryan Fazziola
Kathy … Maria Cento
Margaret … Sarah Clive
Bob Enright … James Collins
Tinsworthy … Nick Pannisi
Detective … Collin Gallagher
Doctor … James Collins
Candy Striper … Alexa Zvinys
New Employee … Dana Fazziola
Police Officer … Domenick Iadanza