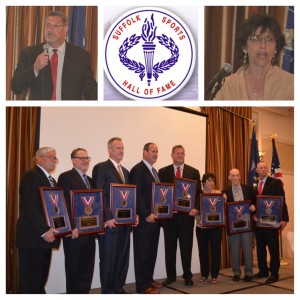 This year's Suffolk County Sports Hall of Fame induction ceremony should have unofficially been called Sachem Sports Hall of Fame night.
There were dozens of alums, coaches, athletes and administrators in attendance to see Sachem alum and former NBA player Jeff Ruland, former Sachem girls basketball coach Risa Zander and Sachem alum and girls basketball standout Nicole Kaczmarski all honored during the 24th annual Suffolk Sports Hall of Fame induction ceremony held at the Sheraton Long Island Hotel in Hauppauge, N.Y. Friday night.
Joining those three from Sachem as inductees were longtime Lindenhurst wrestling coach Paul Brodmerkel, West Islip three-sport standout John Klein, Copaigue basketball coach Jim Mahoney, NFL and Central Islip stars Mike and John Tice, and John Papaneck, a Patchogue-Medford alum, who was an editor at Sports Illustrated and ESPN.
With a number of high profile Sachem figures in attendance, including retired Athletic Director Tom Sabatelle, football coaching legend Fred Fusaro and wrestling coaching legend Jack Mahoney, the night was filled with Sachem lineage, lingo and stories.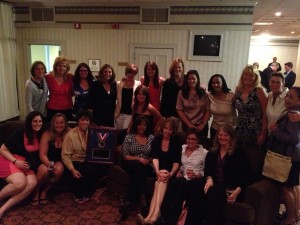 Both Zander and Ruland mentioned Sabatelle, a Sachem alum as well, in their induction speeches.
"I learned it was okay to be intense and passionate about the game," she said of Sabatelle, "to teach the game and to demand that each player give it their best effort."
Zander was the head girl's basketball coach at Sachem from 1975 to 1990 where she won 338 games, one state title, and four county titles. She is also a member of the New York State Basketball Hall of Fame and was named National Coach of the Year in 1988.
"The journey that brought me to this moment was so very special," she said. "One moment can define a coach, a team, a program, and I am proud to be a part of the defining moments in Sachem and Suffolk County basketball."
For Sachem, she said the moment was when Barbara Durham, as a sophomore, led the Flaming Arrows to their first girl's basketball playoff victory in the late 1970s and scored a then program-record 39 points.
"We had a full page article in the paper the next day and our program took off," said Zander.
Zander spoke of the privilege she had in helping guide Sachem girls basketball during the push for Title IX across America.
"The '70s were a time of great change for these young women in sports," she said. "My job was to instill my passion, intensity and love of the game into life lessons for these young people. It was okay when you put the uniform on and there were demands and expectations, that you have a work ethic second to none and most of all you become role models for the girls who follow you."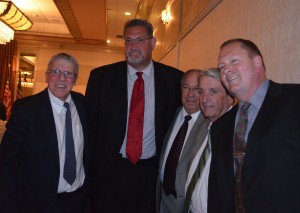 Ruland, who graduated from Sachem in 1977 and played in the NBA for nearly a decade with Washington and Philadelphia, said Sachem was the foundation of his career. After playing, he went on to the coaching ranks and has been on the sidelines for 20 years guiding programs, including his college alma mater Iona, and most recently the University of the District of Columbia. He gave credit to Sachem coaches Steve Rich, Tim Clouser and Dominic Savino for his early development on the court.
"Not only did they teach me about the game of basketball, but about the game of life and it allowed me to become a good man, a good coach and a great father," said Ruland, who was the first alum in Sachem history to have his number (43) retired. "It's an honor to join this elite club, and it's even better to be with the people who were inducted tonight."
Kaczmarski, a 1999 graduate of Sachem who also has her No. 23 retired at Sachem, is one of Long Island's all-time leading scorers in girls basketball. She led Sachem to a state title as an eighth grader, played one season at UCLA and was eventually drafted by the Liberty of the WNBA, but did not play. She was unable to attend the induction ceremony due to conflicts with work. Sachem Athletic Director Pete Blieberg accepted the induction plaque on her behalf.
2013 Suffolk County Sports Hall of Fame Inductees
Paul Brodmerkel, Lindenhurst wrestling coach
Nicole Kaczmarski, Sachem girls basketball player
John Klein, West Islip football, basketball and baseball player
Jim Mahoney, Copiague men's basketball coach
John Papaneck, Editor at Sports Illustrated and ESPN
Jeff Ruland, Sachem and NBA basketball player
John Tice, Central Islip and NFL football player
Mike Tice, Central Islip and NFL football player
Risa Zander, Sachem girls basketball coach
Special Recognition: Sayville High School Football
Suffolk County Sports Hall of Fame Inductees from Sachem
John "Jumbo" Elliott (football player), 1993
Joe Cipp Jr. (football coach), 1996
Neal Heaton (baseball player), 1997
Diane Nelson (equestrian), 2000
Fred Fusaro (football coach), 2003
Jack Mahoney (wrestling coach), 2004
Bill Batewell (baseball coach), 2010
Risa Zander (basketball coach), 2013
Jeff Ruland (basketball player), 2013
Nicole Kaczmarski (basketball player), 2013
-Words by Chris R. Vaccaro