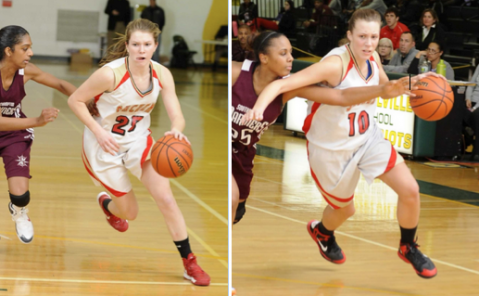 Sachem East girls basketball brought a relatively young team to the court last season and still managed to win a Long Island championship. Imagine what they'll do with Kathleen Everson and Katie Doherty as seniors and the weight of a college selection off their shoulders.
Both Everson and Doherty have recently made verbal commitments to colleges. Everson will play at Division I Bryant in Rhode Island and Doherty is headed to Division I Holy Cross in Worcester, Mass.
Each girl has been instrumental in Sachem East's dominant stretch in girls basketball. Doherty is also a key part of the two-time defending state champion field hockey team at Sachem East.
Everson will follow in the family lineage of playing college sports. Her father Chuck was a member of Villanova's 1985 National Championship men's basketball team and her brother C.J., a Sachem East alum, is currently playing football at Buffalo State.
Katie's cousin Kristen Doherty, Sachem East's all-time leading scorer, is on the women's basketball team at Boston College.
Bryant was 12-18 last season competing in the Northeast Conference, losing in the conference quarterfinals. Holy Cross, who competes in the Patriot League, went 18-14 and lost in the conference championship to Navy this season.
RELATED: Click to view Sachem's Athletic College Commitments List
-Words by Chris R. Vaccaro