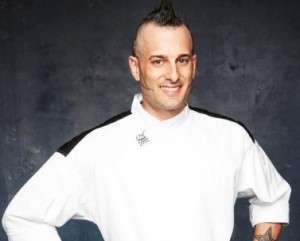 You've probably heard the sentiment that Sachem is represented in all walks of life, on all continents and in some of the least suspecting places. If you watch NBC's "Hells Kitchen," you shouldn't be surprised that a Sachem alum was on this season of the show anchored by Chef Gordon Ramsay.
Barret Beyer, who makes his living as the sous chef at The Emporium in Patchogue, N.Y., was a contender this year and recently knocked off the show, now in its 11th season.
The Sachem alum from the Class of 1994, 37, originally started cooking as part of the firehouse crew on his Coast Guard base on Governors Island. After a number of other jobs, he finally settled into cooking full time, initially at 1 North Steakhouse in Hampton Bays and then at The Black Wolf sports bar in Syosset.
"Believe it or not, Hell's Kitchen is the reason I started cooking professionally," he said in a Q&A on the NBC website. "I have been watching it since the first season and said to myself 'I can do that. Little did I know how hard it really was.'"
Beyer said his favorite experience was coming face-to-face with Chef Ramsay, and the most valuable lesson learned was that, "it's not about how you start, but how you finish. Always fight back."
For Beyer, whose favorite dish to prepare is pulled pork, he enjoys the gratification of a good meal.
"Being able to create something from scratch, and having someone tell you that it was the best thing they ate… that's why I became a chef.
-Words by Chris R. Vaccaro