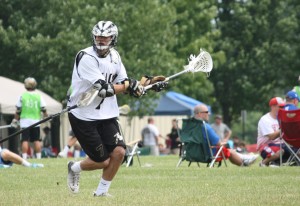 Make that three Army recruits for Sachem North lacrosse in two years. Jimmy Hoffman is the latest to throw his name in the hat and take his skills to West Point.
Hoffman, a senior graduating in 2014, will join recent Sachem alum John Quinn, and eventually be met by Sachem junior Sean O'Brien at the military academy.
"I chose Army because I knew I could get a great education, play at a high level of lacrosse and serve my country," said Hoffman, who noted that both of his grandfathers served in the U.S. Army. "This is also a great challenge I look forward to facing in the near future."
Sachem coach Jay Mauro said Hoffman is a late bloomer who succeeded during his junior season last year.
"He can shoot the heck out of it and plays tough defense," Mauro said. "One of his best skills is getting his hands free down the alley. I attribute that trait to his ice hockey background. We were a really young team last year and he really emerged into a go-to player."
Hoffman is also a member of Sachem's varsity ice hockey team.
The high-level college commitment stories seem endless at Sachem North. The big named schools are piling up. With three players headed to Stony Brook, two going to Army, one to Penn State and more commitments on the way, Sachem should compete as one of the top teams in Suffolk County in 2014.
"Going into my senior year I look forward to hopefully bringing back a Suffolk County Class A Championship to Sachem," Hoffman said. "Having almost the same starting line-up as last year with great talented underclassman coming up, we should have a lot of experience and confidence this year."
RELATED: Sachem's Athletic College Commitments List
Sachem Lacrosse Alumni at Military Academies
Billy Tohill, West Point, Class of '86
Chris Golini, Naval Academy, Class of '92
Dylan Quinn, Air Force Academy, Class of '97
Dan Golini, West Point, Class of '97
Cody Shea, Naval Academy, Class of '01
Jared Brush, Air Force Academy, Class of '01
Matt Darak, West Point, Class of '01
Tom Gossweiler, West Point, Class of '03
John Quinn, West Point, Class of '13
-Words by Chris R. Vaccaro