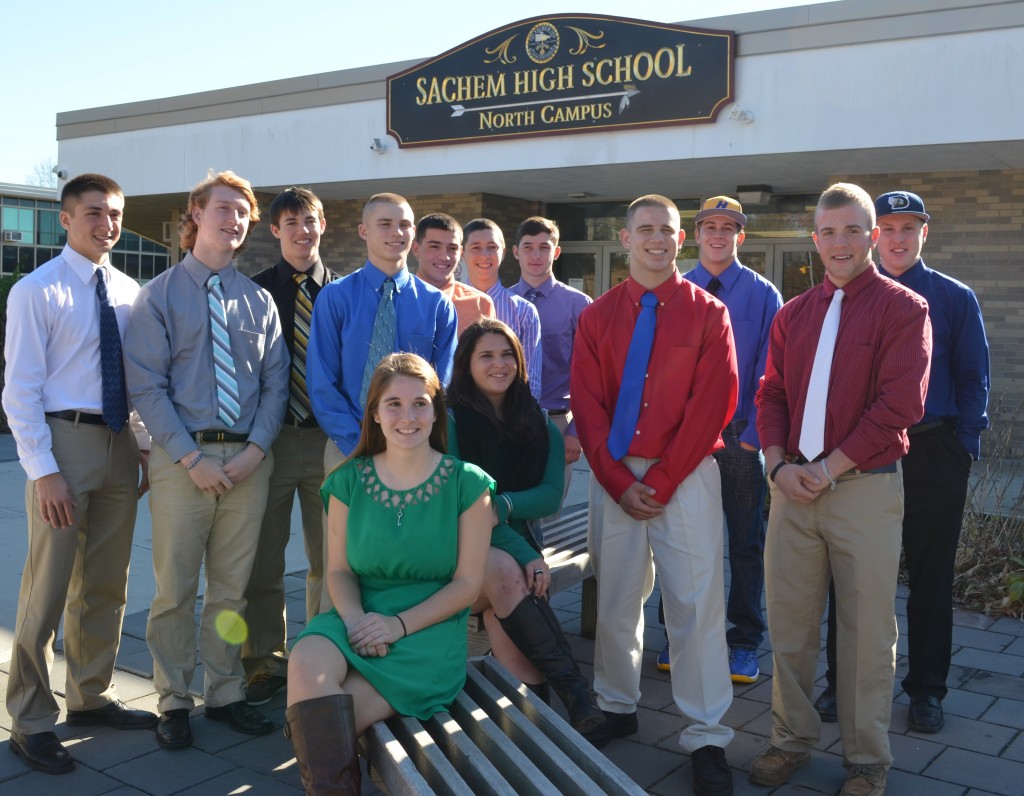 It's become a tradition at Sachem North to host an annual National Signing Day event to honor the student-athletes committing to play sports on the next level. Thirteen athletes, including nine from the boy's lacrosse team, were recognized and signed National Letters of Intent to play at their respective colleges next season.
The Sachem North's boy's lacrosse program has graduated more college ready student-athletes then any other program in the school district over the last decade. A long table featuring college hats was manned by nine seniors from this year's team as coach Jay Mauro led an event that sheds light on the years of work it takes to get to the level of signing a letter of intent.
"Since sophomore year I've been worrying about grades," said Mike Aronow, who committed to play lacrosse at Penn State nearly two years ago. "I've been looking forward to this day for so long and to finally make it official is awesome. It's like one big family at Penn State, a great atmosphere, great coaches."
Teammate Mike Calvagna had similar thoughts about his journey to signing with Stony Brook where he'll play alongside a number of Sachem alums just a few miles north of the school district.
"I can't believe this day is already here," he said. "These guys are my best friends, my brothers. It's great to see us all succeed, I'm very happy for all of them. It's an honor to be a part of this and a part of Sachem North lacrosse."
Joe Caridi, who originally gave a verbal commitment to Stony Brook, changed his mind within the last week and is going to make a decision between Florida Southern and Jacksonville by Wednesday.
Anthony Ross, currently in the fall sports season as Sachem football goes for a county championship this Sunday, is also heading to Stony Brook.
Jimmy Hoffman is the second player in consecutive seasons to commit to West Point, while Paul La Francesa heads to Maritime and Keith McCoy will play at the Merchant Marine Academy.
Jake Slater and Justin Smith will play on the same squad at New York Institute of Technology.
"The reason this group could possibly be one of the better teams we've coached is because of their work ethic, because they care about one another, the team and the program," said Mauro. "I couldn't be more proud to be associated with such a great group of student-athletes."
Also recognized during the event were Sachem North girls lacrosse players Jessica Mazliah, who signed with New Haven, and Kathryn Avanzato, who will play at Philadelphia University.
Sachem baseball was well represented with Steven Foster signing to play at Division I-AA Hofstra, and Dennis Buckstein heading to Dowling.
"They both know how to achieve success," said Sachem baseball coach Tom Gambino. "They work extremely hard, have great work ethics and continue to get better each day. We hope they're both leaders this spring."
Sachem North Boys Lacrosse
Mike Aronow, Penn State
Mike Calvagna, Stony Brook
Joe Caridi, will decide this week (Jacksonville or Florida Southern)
Jimmy Hoffman, Army
Paul La Francesa, SUNY Maritime
Keith McCoy, Merchant Marine Academy
Anthony Ross, Stony Brook
Jake Slater, NYIT
Justin Smith, NYIT
Sachem North Girls Lacrosse
Jessica Mazliah, New Haven
Kathryn Avanzato, Philadelphia University
Sachem North baseball
Steven Foster, Hofstra
Dennis Buckstein, Dowling
PHOTOS: See images from East and North's signing day events
RELATED: Sachem's Athletic College Commitment List
-Words/photos by Chris R. Vaccaro