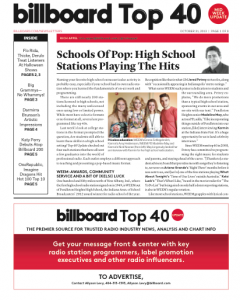 In Sachem and on Long Island, WSHR is a staple on the airwaves. Sachem High School Radio, 91.9-FM, has operated since the early 1960s and produced quality broadcasts all by highly skilled students. The rest of the country was informed about the station this fall in a feature story that appeared in Billboard Magazine.
The piece about WSHR reads:
School stations blessed with powerful signals are also charged with greater responsibility to the audience, a fact not lost on Mark Laura, GM of WSHR (91.9 the Arrow) at Sachem North High School in Lake Ronkonkoma, N.Y. "[As] our station gives us 85% coverage across Long Island, bigger than some commercial stations, [it's] important [we] serve the area our signal covers. We do our best to be a full-service station, especially during emergencies."

Since changing to top 40 in 2010, Laura says WSHR "has become pop- ular among students as well as an asset to our community. Students take pride in the events they're in- volved in as broadcasters. [The sta- tion provides] a safe, fun, and unique learning environment, whether or not students decide to go into broad- casting. We not only teach radio [but] real-life skills students can use for their careers." Putting top 40 in the hands of students, Laura says, gives them an edge over other programmers. "I tell them to think outside the box [and] to veer off the for- mat a bit as long as it fits with the general concept of our programming. Our stu- dents are in tune with new artists that might not test well on commercial radio."

WSHR has also made good use of social media. "[In addition to] local bands who communicate with us, we had Far*East Movement contact a student to do an interview. We wish more A-list artists would reach out. We understand major market commercial radio has influence, but I wouldn't underestimate the power of a high school station that can reach the same amount of young people."

Sachem's broadcast journalism class is the entry point for WSHR, where stu- dent shows are from 7 a.m.-9 a.m. and 2 p.m.-9 p.m.—"peak listening times," Laura says, "so they know what it feels like to compete for an audience. We want them to be marketable from the start [and] transition into a professional setting." A couple who have done so are WPTY (Party 105.3) Long Island morning co- hosts Vic Latino and Matt Goldapper, who are also COO and PD, respectively.