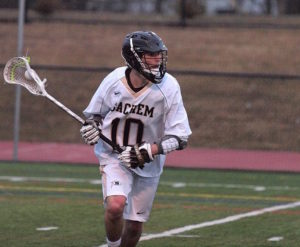 Sachem North senior James Avanzato broke a 17-year old program scoring record when he recorded career point No. 231 on March 30 against Half Hollow Hills East.
Avanzato, who is committed to play lacrosse at the University of Maryland, broke Corey Harned's mark of 230 set from 1998-2000.
"It is such a great honor to have this record," said Avanzato, who has 12 goals and 11 assists through April 4. "None of this would even be a thought without my amazing teammates.  I'm looking forward to Sachem having a great season."
Harned, who played at Johns Hopkins University, also holds Sachem's career goal's record with 161. He now works in the intelligence division of the NYPD.
Avanzato has scored increasingly more points each season since his freshman year. He had 41 in 2014, 82 in 2015 and 90 last season.
"James is a hard worker who loves the game," added Paul Benway, Sachem North head boy's lacrosse coach.
Pat Perritt, who played at both Sachem North and Sachem East, had 276 career points.
-Words by Chris R. Vaccaro