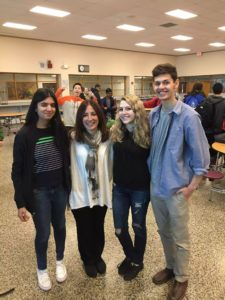 For the third consecutive year, Sachem East's Rho Kappa Social Studies Honor Society members participated in the regional finals of the National History Bowl.
The National History Bowl is a quiz tournament sponsored by the History Channel for student teams across America that is run by former Jeopardy champion Dave Madden.
This year, Sachem East sent 23 students on five varsity teams to compete with a field of 28 schools from across the region. The teams have been meeting since last fall to prepare using practice questions in mock bee tournaments.
This year's competition included a Long Island High School Jeopardy champion as well as some of the best history students from public and private schools in the Northeast.
The teams played in a bracket style quiz bowl tournament all day hoping to qualify for a national championship.
Junior Lucas Moreno qualified for the U.S. History Bee National Championship in the Varsity Division and freshman Nicholas Mulieri qualified in the JV Division.
They were both invited to the National Championship in Washington, D.C. later this month.
Moreno also qualified for the U.S. Geography Olympiad National Championship. The competitions are all held that weekend in D.C. or Virginia.
In order to qualify, they had to take the qualifying exams during the lunch break at the History Bowl.  There were only six varsity and four JV qualifiers from the entire Long Island Championship that we attended on March 19.
This year's Sachem History Bowl participants included seniors Kristin Bossong, Brendan Foy, Zachary Gao, Sophie Hannigan, Eric Jackson, Christopher Mingo, Ariana Mosca, Brian Rinfret, Andrew Schnell, Justin Sostre, and Paul Venturi.
Juniors included Juan Amaya, Kellie Bossong, Timothy Chiu, Adam DeMonte, Ilyssa Forman, Ryan Graham, Ethan Grow, Nicholas Manzella, Lucas Moreno, Tharini Prakash and Andrew Scavo.
There was one freshman, Nicholas Mulieri.