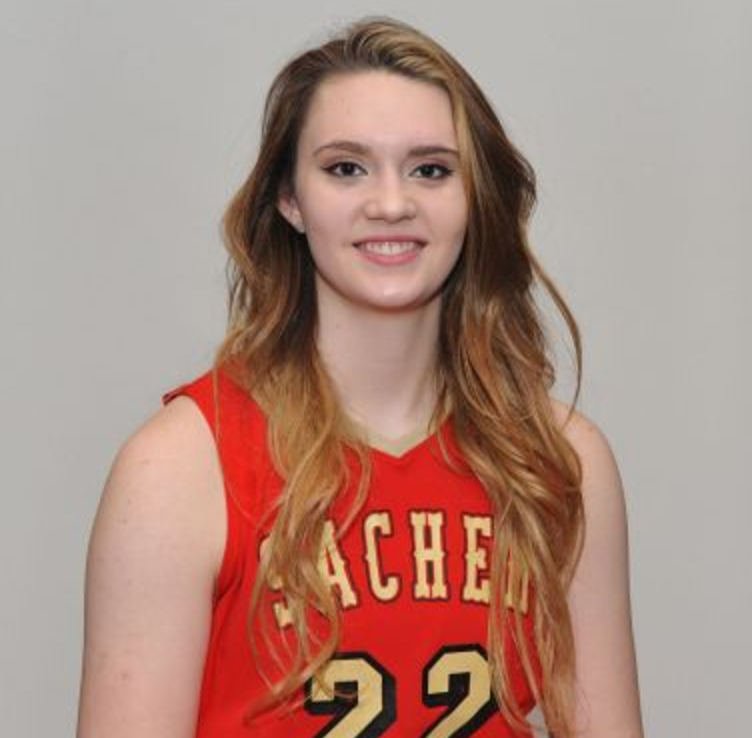 Sachem East's Danielle Cosgrove is the latest in a long run of girls' basketball players to represent Sachem proudly on and off the court and take their game to the collegiate level. Cosgrove recently committed to the University of Notre Dame.
She is just the ninth player in Sachem history – both East and North – to reach 1,000 career points and ranks fifth in district history with 1,211 points. The four-year varsity starter holds the school's single-season and all-time records in rebounding and blocked shots.
We sat down with Cosgrove to talk about her career and the next chapter of her life she is about to embark on.
*What does it mean to you to commit to Notre Dame? 
Danielle: "Being a Notre Dame commit means that everything I do needs to go to the next level because I am not just playing for me, but I am playing for the university and Coach McGraw, a legendary coach who believed in me."
*What were the deciding factors to attend that school? 
Danielle: "I think the deciding factor was that I had been dreaming of going there since I was about 8 years old and now that dream became a reality and I thought to be given this opportunity and not go after it would just be crazy."
*What other schools were you considering?  
Danielle: "After an exciting process of being recruited I recently had narrowed the schools down to Notre Dame, South Carolina, Colorado, Florida, Vanderbilt, Louisville and Michigan State."
*Describe your Sachem career and what it has meant to you to be a student athlete there?
Danielle: "My Sachem career has been more than I could have ever imagined. I was on JV as a seventh grader and got the chance to start on varsity as an eighth grader. Not only was I fortunate to have this opportunity but I got to play with our point guard at the time, Katie Doherty. She showed me if I wanted to be special it comes with sacrifices. But all together being a Sachem student athlete means to me you are playing to create a legacy for your school and playing for the players that came before you."
*What does it mean to you to be a strong lineage of Sachem girls basketball players to play college basketball? 
Danielle: "Sachem East girls' basketball has had so many talented players come through those doors. To be considered one of those top players is a mini dream in itself. I grew up coming to games and watching Meghan and Katie Doherty play and saying to myself I want to be like them when I am there. I am fortunate enough to learn from them as they still come back to help with practice but it doesn't do justice to talk just about the greats. This team is not a team without every single player and coach who has walked in that gym. From Coach Lawrence, Coach Erb, Mike Feldstein, Scott, Coach Brisson, starters, role players and alumni this program is a family."
*What are your career goals and aspirations?  
Danielle: One of the things I've always wanted is to compete and have the opportunity to win a National Championship and I believe going to Notre Dame will give me this opportunity. As far as my future after Notre Dame, I would like to go to the WNBA and play overseas. After the ball stops bouncing I would love to become an FBI agent."
*Who have been the biggest influence's on and off the court? 
Danielle: "Off the court I would say my Mom and Dad have been amazing helping me make my decision and helping me through the hard days. They have taught me that working hard and giving it everything you have will prepare you for the harder things in life. Also, my older cousin Frankie was a huge Notre Dame football fan and he painted his room with everything Notre Dame and it always seemed to draw me in at a young age to love them as well. So, I always wanted to go there. I would say on the court influence's come from Mike Flynn and Kevin Lynch, who gave me the opportunity to play for the Philly Belles program which was the best decision I ever made in regards to basketball. My AAU coaches and teammates are my family now and forever. I can't forget Tom Catapanno and my Baldwin family where it all started.  Lastly, my trainer's Pat Quinn, Jerry Powell and Matt Candimeres have been training me for almost six years and have helped me become the player I am today. So today I am grateful to say I'm going to play at my dream school the University of Notre Dame, but without all the other people, this dream is not possible, so I say thank you!"