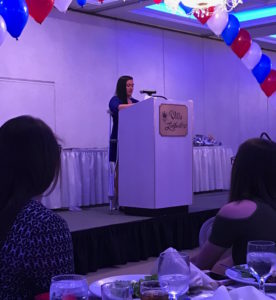 Sachem North alum Danielle Gresalfi, a recent graduate who finished a successful cheerleading career at Hofstra University, was the keynote speaker at this year's Suffolk County Cheerleading Awards Ceremony held at Villa Lombardi's.
Gresalfi, who has won high honors at every level from high school and college to international, was an integral part of the cheer teams at both Sachem and Hofstra.
She spoke to the audience about the transition in cheerleading from high school to the collegiate level.