It is a true testament of incredibly hard work to earn the title of Valedictorian and Sachem East's Sophie Hannigan and Sachem North's Erin Maryzek have both captured the high honor.
We sat down with them to get their thoughts on how Sachem has played a role in shaping their lives and set them up for the next chapter which they are about to embark on.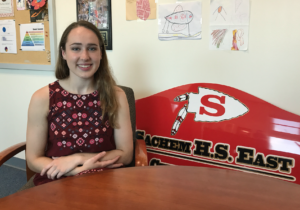 Sachem East, Sophie Hannigan
VIDEO: CLICK TO WATCH INTERVIEW!
Getting to know Sophie: Stony Brook Hospital volunteer, Brookhaven National Lab Gifted Math Program, wind ensemble, National Honor Society treasurer, New York State Math Honor Society vice president, and National History Honor Society public director. She will study math at Rensselaer Polytechnic Institute.
What did the Sachem experience mean to you: "To me, Sachem is family. It's evidently a very large and sprawling district, but there is something really special about having the Sachem bond. There are people that I met this year from the complete other side of the district that I've never seen in my entire life, but just the fact that we all go to Sachem, it's easy to strike up a conversation. They're all very nice, caring people. The fact that parents who went to Sachem choose to stay within the district to raise their kids here, it really speaks volumes to the whole Sachem family."
How has Sachem prepared you for the next chapter of your life? "Sachem has prepared me for the next chapter of my life by going beyond just teaching me academics. All my teachers are passionate about their subjects and you can tell they are genuinely passionate about what they're teaching, but most importantly, they've been personally invested in the students. I can speak on behalf of my entire class that the teachers really do care about you. They want to make sure you're not just finding success in the classroom, but they want to make sure you have a happy life. I've gotten so many pieces of advice from teachers across all different disciplines and it's really stuck with me up until today what they've said, even if it's from years ago. I think the life lessons have been equally as important, if not more important, than the academic lessons I've received."
How has being a student-athlete made a difference in your life? "Being a student-athlete at Sachem has definitely forced me to learn some time management skills because there would be times when I just came home from practice or I just finished a match and I'd be exhausted and the last thing I wanted to do was start my homework, but I had no choice but to do that. Those skills have carried throughout my high school years. It's helped me manage everything I juggle. Being a student-athlete has introduced me to the whole feeling of being on a team. It's a built-in family. At the end of a long day, or if I have a rough day, I could be stressed or not have done well on a test or something, and I could just turn to my teammates for a laugh."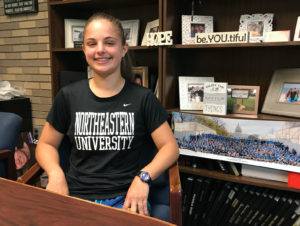 Sachem North, Erin Maryzek
VIDEO: CLICK TO WATCH INTERVIEW!
Getting to know Erin: Varsity field hockey captain, varsity winter and spring track, National Honor Society president, National History Honor Society member, Envirothon Club treasurer, National Merit Scholar and New York State Scholar Athlete. She will study chemistry at Northeastern University.
What did the Sachem experience mean to you: "Sachem gave me a lot of opportunities that I wouldn't have had elsewhere. I had the opportunity to play three varsity sports and I'm in a lot of clubs like envirothon. I'm surrounded by teachers who push me to be the best that I can be. Even from kindergarten to now, I know I would not be where I am today without them, especially science teachers which have been a really big part of my life."
How has being a student-athlete made a difference in your life? "Sports always have been a way for me to destress. I have a pretty crazy life, and so going to practice every day for two hours, to most people might seem like it's adding on to the stress. For me it's really a way to relax. It's nice to not have to worry about being graded or doing homework, but to just have fun."
How has Sachem prepared you for the next chapter of your life? "Sachem will help in my career and next steps in life in a lot of ways. I've had the opportunity to participate in envirothon, which is a club here. Envirothon taught me how to put together a project really well. It's a big competition where you have to work with four other people and come up with an answer to a problem. I didn't think I'd work so hard at something that is a made up scenario, but I don't know if it was my friends doing it with me, or my teacher pushing me, but I love it and now as I go off into college I am going to be able to problem solve really well and be able to work with others to come up with a solution to something that may or may not be real, but is equally important either way."