Sachem North participated in its sixth Great American Rivalry Series contest on Saturday evening and took home multiple honors during the U.S. Marines sponsored contest.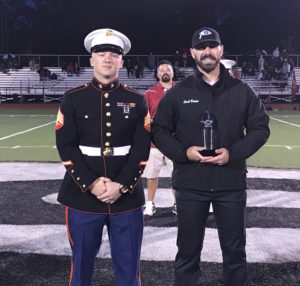 Senior Matt Chirichella was presented with the Rivalry Series Scholar Athlete scholarship for his work inside and outside the classroom.
Chirichella, who will play football and study biomedical engineering at Rensselaer Polytechnic Institute, was named one of the top 100 players on Long Island prior to the season.
Sachem teacher and coach Alexander Grimm was recognized with a Rivalry Series Hall of Fame honor.
Grimm, a Sachem East alum, was a three-sport athlete during his time as a student-athlete at Sachem before playing football at SUNY Cortland. He has been on the coaching staff at Sachem North for almost a decade, and was recently named as the new head varsity men's lacrosse coach at the school as well.
Sachem lost the rivalry game to Connetquot, 41-14, to open the 2017 season. The Flaming Arrows are 5-1 all-time in these specific rivalry games.
The Great American Rivalry Series shines the spotlight on top high school football rivalries across the nation, where long-standing traditions are valued, expectations are sky high, and followers are committed.