As far as anyone associated with the 1993 Sachem boy's lacrosse team was concerned, the biggest thrill 20 years later is still beating Ward Melville in the Suffolk County Class A Championship. The Long Island crown earned against Farmingdale, the double-overtime victory against Mahopac in the state semifinal and the state title victory over Fayetteville-Manlius were all just icing on one sweet cake.
After suffering a regular season loss against Ward Melville, Sachem was determined to play its storied rivals with more gut and grit then ever before the second time around. It worked and the Flaming Arrows beat the Patriots, 8-4, snapping their 40-game win streak and 11-year county title victory streak. It was both euphoric and monumental for Sachem.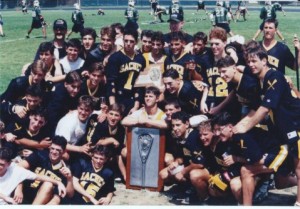 That Melville game was the talk of the field at Sachem again this weekend as the 1993 state championship team gathered to celebrate the 20th anniversary of their post-season spoils. Players and coaches received championship rings they purchased during a half-time ceremony of the Sachem North-Riverhead boys lacrosse game at Fred Fusaro Alumni Stadium Saturday afternoon. The Sachem alums were just as chummy and talkative as they were 20 years earlier as young men doning the black and gold.
"These were the closest bunch of guys I've ever coached," said former Sachem lacrosse coach Rick Mercurio. "They hung out with each other. In practice they always seemed like they were having fun."
Mercurio recalls vividly the time a handful of players from that team told him they'd win it all.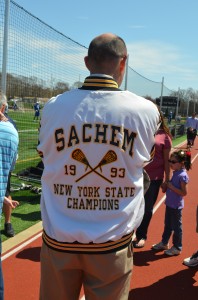 "They said, 'Coach, why are you so nervous? Don't you know we're going to win this all'," he said. "They were convinced they were going to win and nothing was going to stand in their way."
After beating Melville in the county final, the sky was the limit. Sachem went on to beat Farmingdale, 11-4, in the Class A Long Island championship and held the Dalers scoreless in the final 30 minutes of the contest, capturing their first Island crown since 1979.
In the state semifinals, Sachem trailed Mahopac 6-0 at halftime, but rallied to win, 12-11, in double-overtime. Charlie Flaherty scored a game-high four goals, while Pete Friedman and Andy Rodriguez scored three each.
"It didnt look like we were ever going to beat those guys," Mercurio said. "The kids never put their heads down."
Rodriguez was also masterful from the faceoff circle, giving Sachem ample possessions down the stretch of those overtime periods. He was equally as effective in the state final, scoring four goals to lead Sachem to a 9-7 victory over Fayetteville-Manlius and the school's second state lacrosse title and first since 1979.
"We all grew up together and knew each other's tendencies," Rodriguez said. "We're all friends. It was one team that went after it. We had a lot of success, but we also forged friendships that are still going on today. We had a good senior class and strong juniors. We knew when it was time to get on the field it would be our turn. We were able to turn it on and turn it off, like that."
PHOTOS: See images from the game and half-time ceremony
How they won a state championship?
Beat East Islip, 14-5, in the county semifinals
Beat Ward Melville, 8-4, in county final
Beat Farmingdale, 11-4, in the Long Island final
Beat Mahopac, 12-11, in the state semifinals
Beat Fayetteville-Manlius, 9-7, in the state final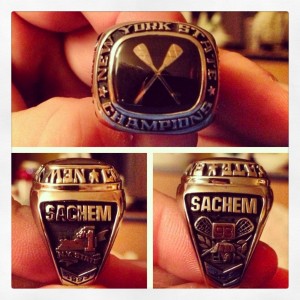 Official Sachem Lacrosse State Championship Roster
Chris Asaro, Attack
Dan Cakourous, Attack
Bob Sullivan, Midfield
Dan Lorenz, Midfield
Dean Falzon, Midfield
Dennis Kramer, Midfield
Ed Southard, Attack
Pete O'Leary, Midfield
Brendan Chamberlain, Attack
Matt Keefe, Midfield
Davin Turchiano, Defense
Brian Stellwagen, Attack
Dave Martines, Defense
Larry Collins, Midfield
Mike Ward, Midfield
Dave Connolly, Midfield
Brian Borakove, Defense
Chris Longo, Goalie
Todd Allen, Defense
Mike McCrain, Midfield
Dave Kramer, Midfield
Pete Friedman, Attack
Dave Knepple, Midfield
Brian Rogers, Defense
Kevin Owens, Midfield
Andy Rodriguez, Midfield
Brian Micena, Defense
Mike Vitulli, Goalie
Jeff McGuire, Midfield
Rob Finkel, Defense
Mike Weber, Attack
Charlie Flaherty, Midfield
Dan Marasek, Defense
Chris Gundlach, Midfield
Bill Ramsey, Defense
Jim Anson, Defense
Ken Jurgansen, Attack
Mike Hall, Goalie
Rick Mercurio, head coach
Tony Petillo, assistant coach