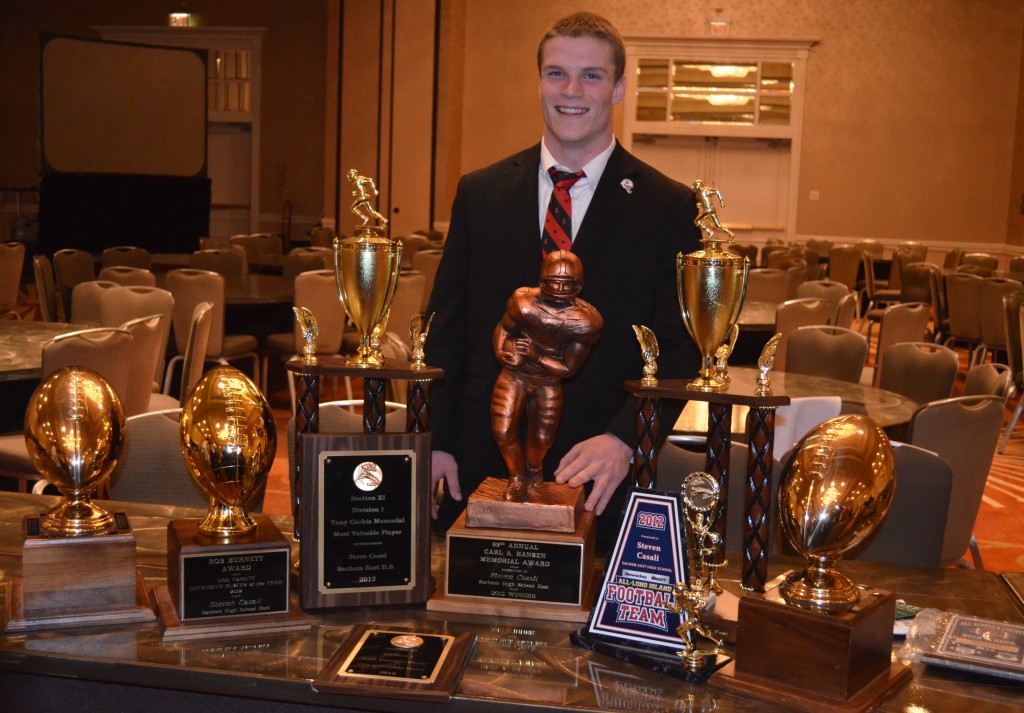 During his acceptance speech of the Hansen Award, Steven Casali said he was dreaming of that moment since his freshman year at Sachem East.
Even on a team that was 0-7, Casali had dreams of being great. His dreams came true five-fold as he collected more individual honors than any player in the history of the Suffolk County Football Coaches Association awards dinner Monday Hyatt in Hauppauge, N.Y.
Aside from being named the 63rd annual winner of the Hansen Award, presented to the top football player in the county, Casali was also named the Bob Collotta Award winner as the top linebacker, the Joe Cipp Jr. Award winner as the top running back, the Rob Burnett Long Island Defensive Player of the Year, the Suffolk County Division I MVP and collected his plaque as co-MVP of the Suffolk County Division I championship.
Casali also learned he was one of 10 Suffolk County players to be named First Team All-Long Island. It was a monumental evening for Sachem East football and the Casali family.
"My parents taught me hard work at an early age and I think that paid off right now," said Casali, who set almost every offensive and defensive record at Sachem East in his four-year career. "I'm blessed to even play football. Being a Sachem football player means the world to me. I'm going to miss it. I'm proud to say I was part of this team and I couldn't do it without my teammates and my coaches."
Casali becomes the first athlete to win the Hansen, while playing for a former Hansen Award winning coach. Mark Wojciechowski won it in 1985 at Sachem as one of the few linemen to grab the honor. Speaking with emotion, Woj was overly proud of Casali, who will play college ball at the University of Massachusetts just like he did.
"You're not going to come across many like him in your life," Woj said. "He's a special kid. He's 10 times a better football player than I ever was. I hope kids in our program look up to him. He's carried himself in such a way that he's a great role model for all our kids."
Casali is the definition of an old school Sachem football player; a throwback. No matter if it was practice or a game, his jersey would be ripped and you knew he made a difference in the game at first glance.
Then you could take a look at the score sheet and see the real story. He rushed for 1,915 yards and 20 touchdowns, and made 104 tackles this year, all single-season records at Sachem East.
During Sachem East's playoff stretch, he rushed for more than 700 yards, including a 273-yard, four-touchdown effort against William Floyd in the Suffolk County Division I championship. When it mattered most, Casali always played his best football.
Asked what the favorite moment of his career has been, he said witnessing the catch made by teammate Ryan Dippel during the county semifinals at Connetquot.
"When Ryan Dippel caught that ball I was never happier to wear Sachem across my chest," he said. "I will remember that for the rest of my life. It was an amazing experience."'
His teammates and coaches will forever say the same thing about playing with him.
The Steven Casali File
Offensive 2012: 252 carries, 1915 yards and 20 touchdowns
Defensive 2012: Team-leading 104 tackles
All-Division, All-County, All-Long Island, All-Metro (announced in two weeks)
Hansen * Collatta * Cipp * Bennett * Division I MVP *
Casali's Sachem East records
Career total yards: 3,697 (2010-2012)
Single-season total yards: 1938 (2012)
Career touchdowns: 41 (2010-2012)
Single-season touchdowns: 20 (2012)
Single-game touchdowns: 4 vs. Williams Floyd (2012) *tied w/ 3 others
Career points scored 250: (2010-2012)
Single-season points scored: 122 (2012)
Single-game points scored: 24 vs. William Floyd (2012) *tied w/ 1 other
Career rushing yards: 3651 (2010-2012)
Single-season rushing yards: 1915 (2012)
Career rushing attempts: 511 (2010-2012)
Single-season rushing attempts: 252 (2012)
Single-game rushing attempts: 45 vs. Connetquot (2012)
Career tackles: 220 (2010-2012)
Single-season tackles: 104 (2012)
Single-game tackles: 17 vs. William Floyd (2012)
Career forced fumbles: 5 (2010-2012) *tied w/ 1 other
Single-game forced fumbles: 3 vs. Longwood (2012)
Related Links
PHOTOS: View photos of Casali over the last two years of his career
VIDEO: Watch Casali's highlight film on HUDL
-Words by Chris R. Vaccaro