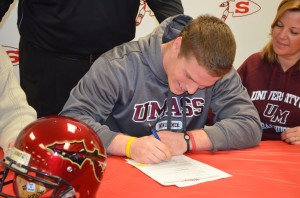 Nearly 20 student-athletes at Sachem East and Sachem North signed their National Letters of Intent to officially seal the deal with their future college athletic programs on Wednesday which marked National Signing Day across the country.
Athletes from Sachem will play at some of the top colleges and universities around the United States in various sports.
"Today is a very special day to celebrate all of the great accomplishments of our student-athletes," said Sachem Athletic Director Pete Blieberg. "This is the best day for us as athletic directors. The great part about this is the word student-athlete. All the schools they are going to are outstanding institutions. If they didn't do as well as they did in their athletic worlds, they wouldn't have the opportunity they have today. Today is a celebration of all the hard work they put in."
Of the 18 student-athletes recognized on Wednesday, Steven Casali was the biggest draw for local media. Graduating as the highest profile football player on Long Island and possibly New York State this year, he officially signed his Letter of Intent with the University of Massachusetts.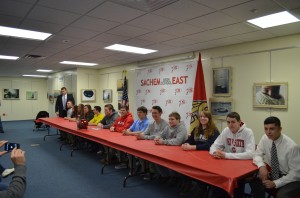 Over the last couple of months a number of schools expressed serious interest in Casali, even after he gave his verbal commitment to UMass months ago. He won a number of impressive honors during his senior season, but none greater than the Hansen Award as the top football player in Suffolk County.
"I'm proud to be a Minuteman and make it official," he said. "It's a very stressful process but you have to enjoy it as much as you can. You have to take it one step at a time and appreciate it. I went to UMass because I felt most comfortable there."
Mark Wojciechowski, Casali's football coach at Sachem East, also played at UMass and experienced the rush of the recruiting process as a senior gridiron star at Sachem in the mid-'80's.
"UMass is getting a great kid," said Wojciechowski. "As a man he's going to do great things there no matter how football turns out. He'll be a student, get his degree and he's going to bring a lot of honor and pride to his family and to the program. He's going to be an impact kid playing for them. Even if it doesnt happen right away he's going to work real hard to get on the field. I can't wait to go to the first bowl game."
Some of the other athletes who put pen to paper and solidified their future at larger colleges were Sachem East volleyball star Nick Laffin, who is headed to Columbus to play for Ohio State, Sachem North swimmer James Donlevy, who will compete at the University of Connecticut, Sachem East's Morgan Tinari, who will play soccer at St. John's, Sachem's East's Anthony Stefanelli, who will be a gymnast at Michigan, Sachem East's Dan Hetzel, who will play baseball at the University of Rhode Island and Sachem East's Tom Engelken, who will play lacrosse at the University of Delaware.
Sachem North also saw Courtney Cohen (Holy Cross) and Victoria Barclay (NYIT), both teammates on the girls soccer team, as well as Alex Lazarich (Buffalo, track) and John Echel (Culver-Stockton, volleyball) sign their letters.
Sachem East also had Jordan Miller (Adelphi, field hockey), Emily Hansen (Iona, soccer), Cassie Asselta (Hillsdale, soccer), Joe Eiseman (Dowling, lacrosse), A.J. Solomito (NYIT, lacrosse), John Vigh (Marist, lacrosse) and Matt Cassels (Franklin Pierce, baseball) sign their letters.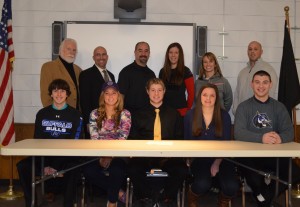 The Sachem North boys and girls lacrosse programs held their own signing ceremony in the fall where more than a dozen student-athletes were recognized. The Sachem North boys program has historically produced the most college athletes of any athletic program in the Sachem Central School District over the last decade. Since head coach Jay Mauro took over in 2005, his team has had 62 players move on to the college level.
RELATED: PHOTOS: See photos from Sachem's National Signing Day
RELATED: The official Sachem Athletic's College Commitment List
Students who signed their National Letter of Intent
Sachem East
Jordan Miller, Field Hockey, Adelphi
Emily Hansen, Soccer, Iona
Morgan Tinari, Soccer, St. John's
Cassie Asselta, Softball, Hillsdale College
Anthony Stefanelli, Gymnastics, Michigan (also dives for Sachem)
Nick Laffin, Volleyball, Ohio State
Joe Eiseman, Lacrosse, Dowling
Tom Engelken, Lacrosse, Delaware
A.J. Solomito, Lacrosse, NYIT
John Vigh, Lacrosse, Marist
Dan Hetzel, Baseball, Rhode Island
Mike Cassels, Baseball, Franklin Pierce
Steven Casali, Football, UMass
Sachem North
James Donlevy, Swimming, UConn
Alex Lazarich, Track, Buffalo
Victoria Barclay, Soccer, NYIT
Courtney Cohen, Soccer, Holy Cross
John Echel, Volleyball, Culver-Stockton
(Official release of Sachem Central School District)