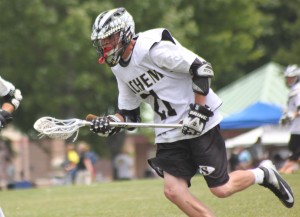 Sean O'Brien joins an impressive list of Sachem alums to commit to attending a service academy and he is the second Sachem North lacrosse player in as many years to commit to playing at West Point.
O'Brien, who is entering his junior year this fall at North, verbally committed to play at Army and will join Sachem alum John Quinn on the Golden Knights.
"It's the best fit for my personality and how I want to live my life," O'Brien said. "It is a tremendous opportunity for me to get a stellar education, play lacrosse and be able to serve my country. In my opinion, to get a degree from West Point is unlike a degree from any other institution. It really is an unbelievable honor to be able to go there."
O'Brien started for Sachem at attack as a sophomore on a young team last season. At 6-foot-2 and in the middle of a busy high school schedule with academics on top of three sports (football and basketball), he brings a world of potential to the field and should help keep Sachem in the hunt for the next two seasons on the lax field.
"He has a cannon for a shot and has an excellent IQ," said Sachem North lacrosse coach Jay Mauro. "He is also very skilled at getting his hands free. He's growing into his body and will be a force for us."
Joining Quinn at Army is special for O'Brien and Sachem. It's not often a program gets two alums on the same Division I team, in any sport. O'Brien also looked up to Quinn, who graduated this past June, on and off the field.
"He is an outstanding person, leader, a really great role model and just a really great guy."
O'Brien said the only other school he was considering was Navy, so either way he was set on serving his country.
"Not many people are given the opportunity to go to West Point," he said. "I consider it an honor to be able to go to the Academy. This has been a life long dream and goal for me.  I look forward to the service commitment after. It's a challenge that I look forward to."
If you're keeping track, there are a number of current Sachem North juniors and seniors slotted to play Division I lacrosse. Last month Anthony Ross committed to Stony Brook joining teammates Mike Calvagna and Joe Caridi and last year Mike Aronow committed to Penn State.
RELATED: Check out the Sachem Athletics College Commitment List
Sachem Lacrosse Alumni at Military Academies
Billy Tohill, West Point, Class of '86
Chris Golini, Naval Academy, Class of '92
Dylan Quinn, Air Force Academy, Class of '97
Dan Golini, West Point, Class of '97
Cody Shea, Naval Academy, Class of '01
Jared Brush, Air Force Academy, Class of '01
Matt Darak, West Point, Class of '01
Tom Gossweiler, West Point, Class of '03
John Quinn, West Point, Class of '13
-Words by Chris R. Vaccaro