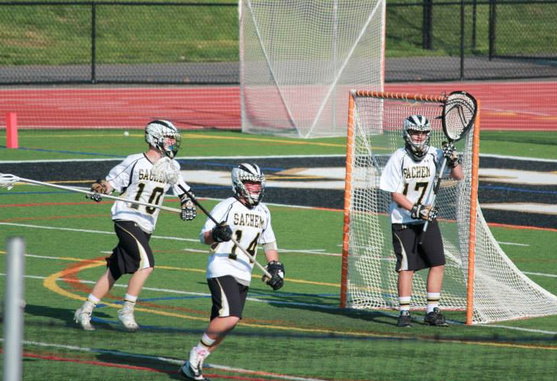 The Division I commits continue to pile up for Sachem North lacrosse this season. Sophomore Jacob Giacalone made major news last week when he verbally committed to play at Johns Hopkins University.
"Johns Hopkins University has so much to offer me not only as an athlete but also as a student," he said. "It has a one of the best academic programs in the country and a great lacrosse program."
Hopkins is one of the most storied lacrosse programs in the nation and hasn't had a Sachem alum on its roster since brothers Chris and Corey Harned played for the Blue Jays in the late 1990s.
Giacalone, a goalie and the son of Sachem alum and former Arrows lacrosse player Artie Giacalone (1988), said he was impressed with the facilities and the environment on campus.
"When I revisited the campus this fall the coaching staff and team made me feel right at home," he said. "Their enthusiasm for the school and the lacrosse program sold me on Johns Hopkins."
Only a goalie for two years, the potential is high for the young netminder who will help guide a team filled with top tier talent this spring.
"Sky is the limit," said Sachem coach Jay Mauro. "He has extremely quick hands and he's very athletic."
Last year he played varsity as a freshman and had the ability to learn a ton from goalies John Quinn and Dylan Ciolino.
"He really turned it on this summer and has really worked hard," Mauro said. "He will continue to work hard because he has the drive to be great. He's a great teammate and the guys love him."
He's only a sophomore so he hasn't decided on a major or career path just yet. The way the recruiting process is going in college lacrosse, coaches are tabbing kids younger and younger in the competitive market.
"Committing this early was very stressful but I also had a lot of fun with the whole process," said Giacalone, who was able to visit some great universities and meet college lacrosse players from all over the country.  "Overall, it was a great experience."
VIDEO: Watch Giacalone's highlight video
RELATED: Sachem Report College Commitment List
-Words by Chris R. Vaccaro