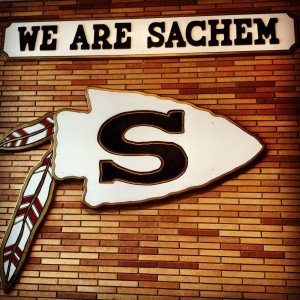 The Sachem Central School District is proud to announce this year's Sachem Athletic Hall of Fame induction class, which will be recognized during a ceremony at Sachem High School North on Saturday, May 7.
There are 24 inductees this year. Inductees will be recognized on the field during halftime of the Sachem North lacrosse game. A smaller induction ceremony will be held for friends and family that morning where plaques will be given to the honorees.
This marks just the second Athletic Hall of Fame induction in Sachem history. The first took place in 2003. The actual Hall of Fame is located in the gymnasium lobby at Sachem North.
Inductees are chosen by a selection committee based on a number of criteria, including athletic success during their careers at Sachem, either as a player, coach or supporter. This year's list of inductees includes some of the most historic names in our district's vast sporting history. From Olympic athletes to iconic coaches to some of the best individual and award-winning athletes in Sachem history, this class is legendary.
"I cannot think of a more well-rounded, deserving group of former athletic department stand outs than the group that will assemble this year," said Sachem Athletic Director Pete Blieberg. "Truly a who's who in the world of Long Island athletics, Sachem's 2016 induction class cannot be topped. I am eagerly looking forward to welcoming back this outstanding group of men and women who helped to mold the mystique that is Sachem Athletics."
DATE: Saturday, May 7
TIME: 1 p.m. lacrosse game start (recognition will take place at halftime)
LOCATION: Fred Fusaro Alumni Stadium, North, 212 Smith Rd., Lake Ronkonkoma
Inductees include (in alphabetical order):
Bill Batewell, baseball coach

Sam Cario, multi-sport coach
Joe Cipp Jr., football player and coach
Rich Cimini, sportswriter
Brian Dehler, football player
James Fabian, three-sport athlete
Tony Falco, community leader
Ken Freidheim, gymnastics coach
Fred Fusaro, football coach
Laura Gentile, field hockey / media executive
Mark Graebe, basketball and football player
Nicole Kaczmarski, basketball player
Jack Mahoney, wrestling coach
Shirlee Manoogian, swimmer
Shawn McNamara, football player
Rick Mercurio, lacrosse coach
Maria Michta, Olympic racewalker
James Nolan, superintendent, coach, supporter
Jeff Price, swimmer
Isaac Ramaswamy, wrestler and wrestling coach
Tom Sabatelle, multi-sport athlete and athletic director
Frank Schmidt, soccer coach
Doug Shanahan, lacrosse and football player
Risa Zander, basketball coach
CLICK HERE to view the names from the original 2003 Induction Class!