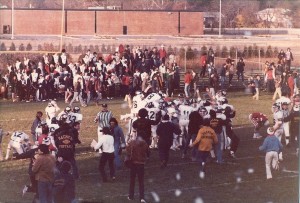 PHOTOS: Click to see images from Sachem's 1977 championship season
Sachem honored its 1977 Suffolk County champion football team in an on-field ceremony at halftime during the Sachem North game on Oct. 19.
While current players enjoyed senior night against Longwood, Sachem had dozens of its former players on-hand from a team that will go down as one of the best in school history to celebrate the 35th anniversary of their achievement. The '77 championship was the first of six county titles in school history, including a string of three straight from 1977-1979.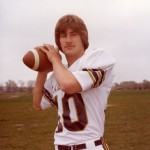 Among many highlights from 1977 was Sachem's first Rutgers Trophy, awarded to the top football program in Suffolk County. Senior quarterback Brian Dehler was also recognized as the Hansen Award winner that season as the best player in the county.
"In continuing to remember the great tradition that Sachem football is, it is with great pride that we invite back the 1977 Rutgers Trophy team for the 35th anniversary of their outstanding season," said Pete Blieberg, Sachem's Director of Athletics. "This is another example of how special Sachem pride is and our willingness to not let the rich history of the Sachem athletic program dim as time goes by."
Blieberg said they have received a great response from the coaches and players from the '77 team.
"October 19 is shaping up to be a great night for everyone involved," he said.
Sachem beat Patchogue-Medford, 21-16, to win the county title that season in front of nearly 10,000 fans at Central Islip High School – a neutral site. Perhaps the most remembered play of the game was an interception by John Matheis with 18 seconds left in the game to seal the victory for Sachem.
That team featured many of Sachem's all-time greats from Matheis and Dehler to running back Jerry Figgiani and lineman Shawn McNamara, and future professional baseball players Neal Heaton and Larry Huggins.
"We are very excited to honor the 1977 championship team," said current Sachem coach Dave Falco. "The first is always special. All of our kids know about the 1977 team and the championship they won. They deserve to be honored."
Other highlights from the 1977 season:
One of 12 teams in Sachem's 50 year history to have 8 or more wins
The 231 points the team scored are the 10th most in a single season in Sachem history
Sachem allowed a program record low 35 points all season
Only loss was during Week 1 against Pat-Med
Until 2009, the 55 points Sachem scored against Northport in 1977 was a single-game high for the Flaming Arrows
Sachem had four shutouts in 1977; only five other teams had four or more shutouts in program history
The 21 points Sachem scored against Pat-Med in 1977′s title game are the third most in a county final for the Arrows
Running back Jerry Figgiani, a senior on the '77 team, rushed for 1,888 yards in his career, good enough for 10th all-time in Sachem history. (He rushed for 1,116 in '77)