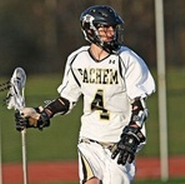 Sachem North senior attack Evan Petillo has committed to play college lacrosse at Hartwick.
Petillo, the younger brother of Sachem alums Cody (Rutgers) and Bryan (Tufts), adds to the large amount of former Flaming Arrows currently playing at Hartwick in Oneonta, N.Y.
"Evan is a great kid who has worked very hard to get to this point," Sachem coach Jay Mauro said. "He is a great teammate and leads by example. He will add to the tradition of Sachem North players excelling at Hartwick."
Sachem alums at Hartwick: Cody Ciolino (North), Fred Golini (North), Jesse Grimm (East), Harry Hughes (East), and Phil Schaefer (North).
Including this year, Sachem North has had 61 players commit to play college lacrosse since 2005 when Mauro took over as head coach from Rick Mercurio. It's the most of any varsity program in the school district. Last year there were 12 commits, the highest under Mauro.
Sachem's other lacrosse commitments
Class of 2014
Michael Aronow, Penn State
Mike Calvagna, Stony Brook
Class of 2013
Tyler Andreassi, Stony Brook
Nicholas Haiduk, NYIT
-Words by Chris R. Vaccaro